Emma (2020) Movie Review | Screen Rant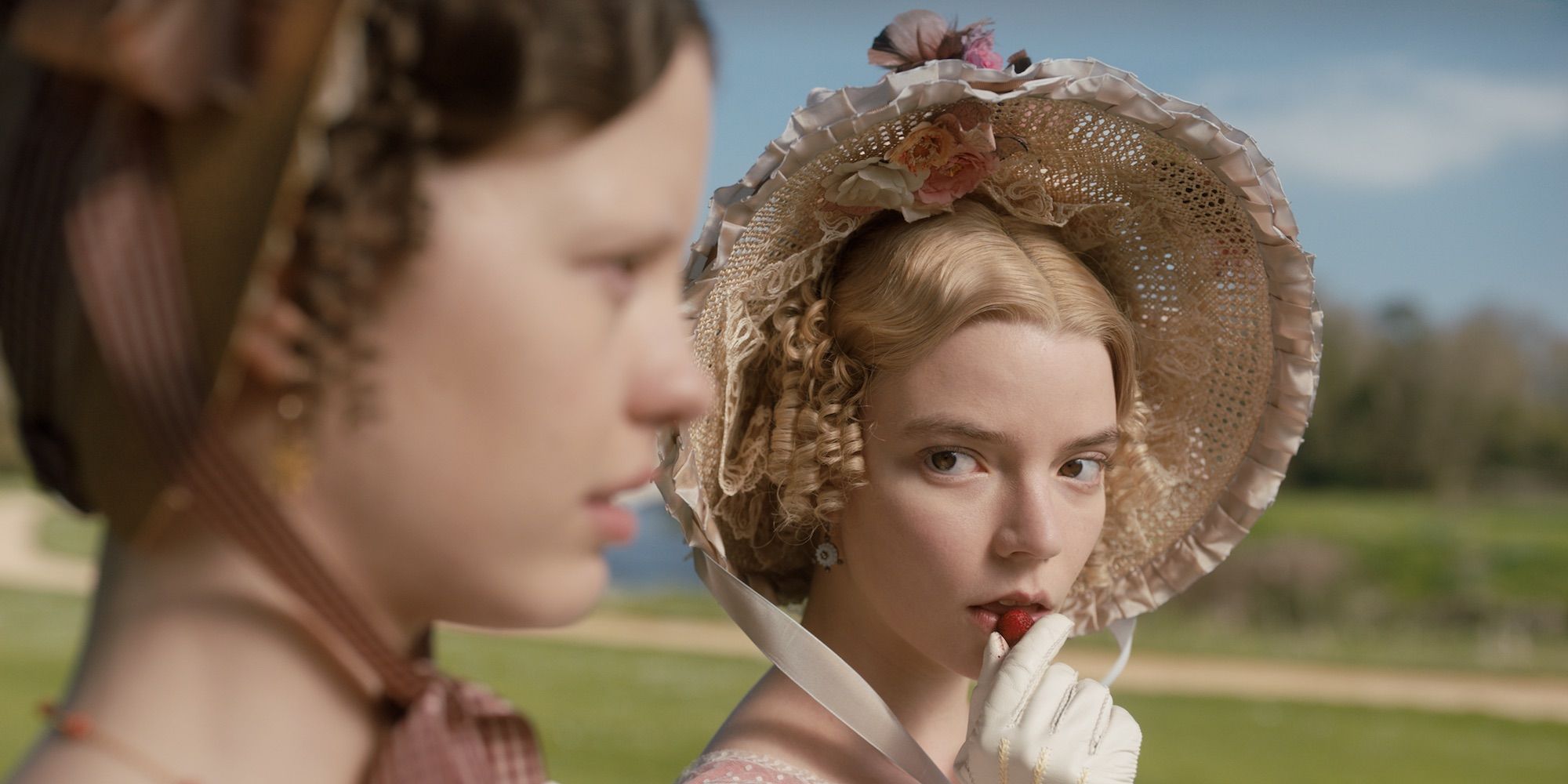 It is a truth universally acknowledged that every few years, Hollywood will produce a new adaptation of one of Jane Austen's classic novels. This year comes Emma., the feature-length film debut of director Autumn de Wilde that adapts Austen's comedy about romance and marriage in Regency England. Originally published in 1815, Emma has been adapted many times, perhaps most famously in Amy Heckerling's 1995 film Clueless, though Gwyneth Paltrow's period piece Emma released the following year. Now, de Wilde's Emma is another period adaptation, but one with some modern sensibilities and style. Emma offers a stunningly crafted and uproarious adaptation of Austen's novel, with gorgeous costumes and delightfully charming performances.
The movie follows Emma Woodhouse (Anya Taylor-Joy), a "handsome, clever and rich" young woman who has a knack for meddling in the romantic lives of her friends, much to the chagrin of her father, Mr. Woodhouse (Bill Nighy). The film opens on the day of a wedding Emma helped orchestrate, between her friends, Mr. (Rupert Graves) and Mrs. Weston (Gemma Whelan). Emma next sets her sights on the young Harriet Smith (Mia Goth), though she is unsuccessful in creating a match with Mr. Elton (Josh O'Connor). For herself, Emma is interested in Frank Churchill (Callum Turner), but discovers she may in fact have feelings for George Knightley (Johnny Flynn). Emma's meddling creates a difficult situation that involves not only her feelings, but those of her friends, and she'll have to figure out a way to untangle it in order to ensure she and her friends find love and happiness.
Related: Every Major Movie Releasing In February 2020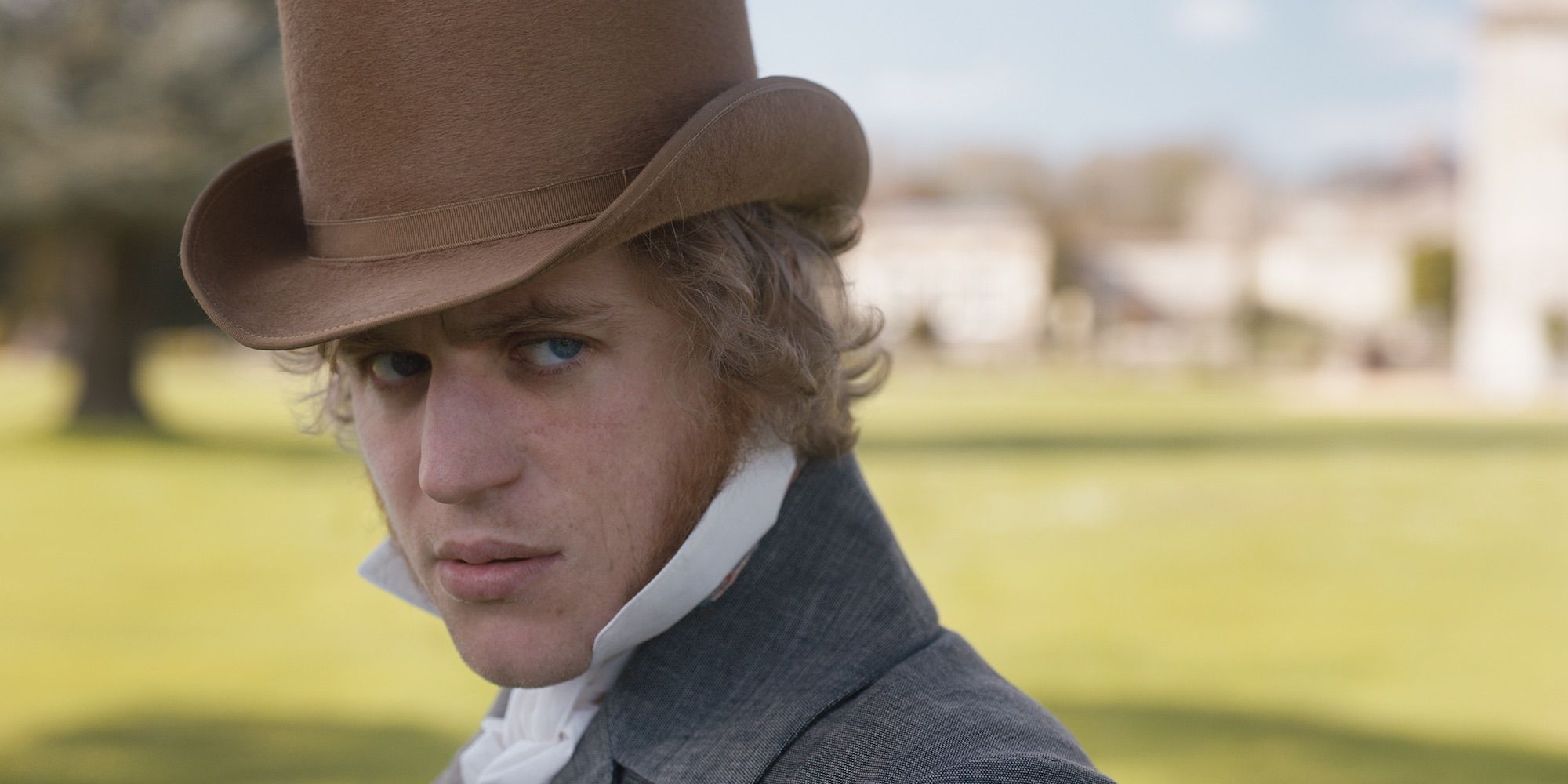 Emma's script is adapted by novelist Eleanor Catton (The Luminaries) and manages to capture much of Austen's own comedy, translating it elegantly to the screen. There is, of course, a reason that Austen's novels are adapted time and again - it's because the stories are so engaging and compelling that it's easy for each new generation to fall in love with the characters and be transported to the time of Regency England for some fun and romance. There's an escapist nature to our love of Austen, as in many tales of romance, and both Catton's script and de Wilde's direction only further elevates that escapism. The setting of the fictional Highbury is beautifully picturesque - except, of course, when the story calls for a rainstorm, though even then, it's still quaint - while the costumes in Emma are absolutely exquisite. On the whole, Emma adapts Austen's original story with such love that it's as equally a celebration of her work as of the romance at the heart of it.
But, there's also a quirkiness to Emma that belies de Wilde and Catton's modern sensibilities, particularly with the character of Mr. Woodhouse, who is rather silly - much sillier than you'd expect a character in Regency England to be. Nighy plays the character to perfection, bringing a great deal of comedy to the film, and stealing most scenes he's in. Still, Emma rests on the shoulders of its star and Taylor-Joy carries the film off effortlessly, playing the clever, if arrogant Emma Woodhouse with such charm, but not shying away from the character's uglier moments. Taylor-Joy is surrounded by an exceptionally talented cast, with Flynn being another standout as Mr. Knightley. The success of any Austen adaptation is largely dependent on the two romantic leads (as in any romance, of course), and Taylor-Joy and Flynn have the chemistry to make the pairing of Emma and Mr. Knightley sizzle on screen. It's this romance that'll keep fans returning to and rewatching de Wilde's Emma.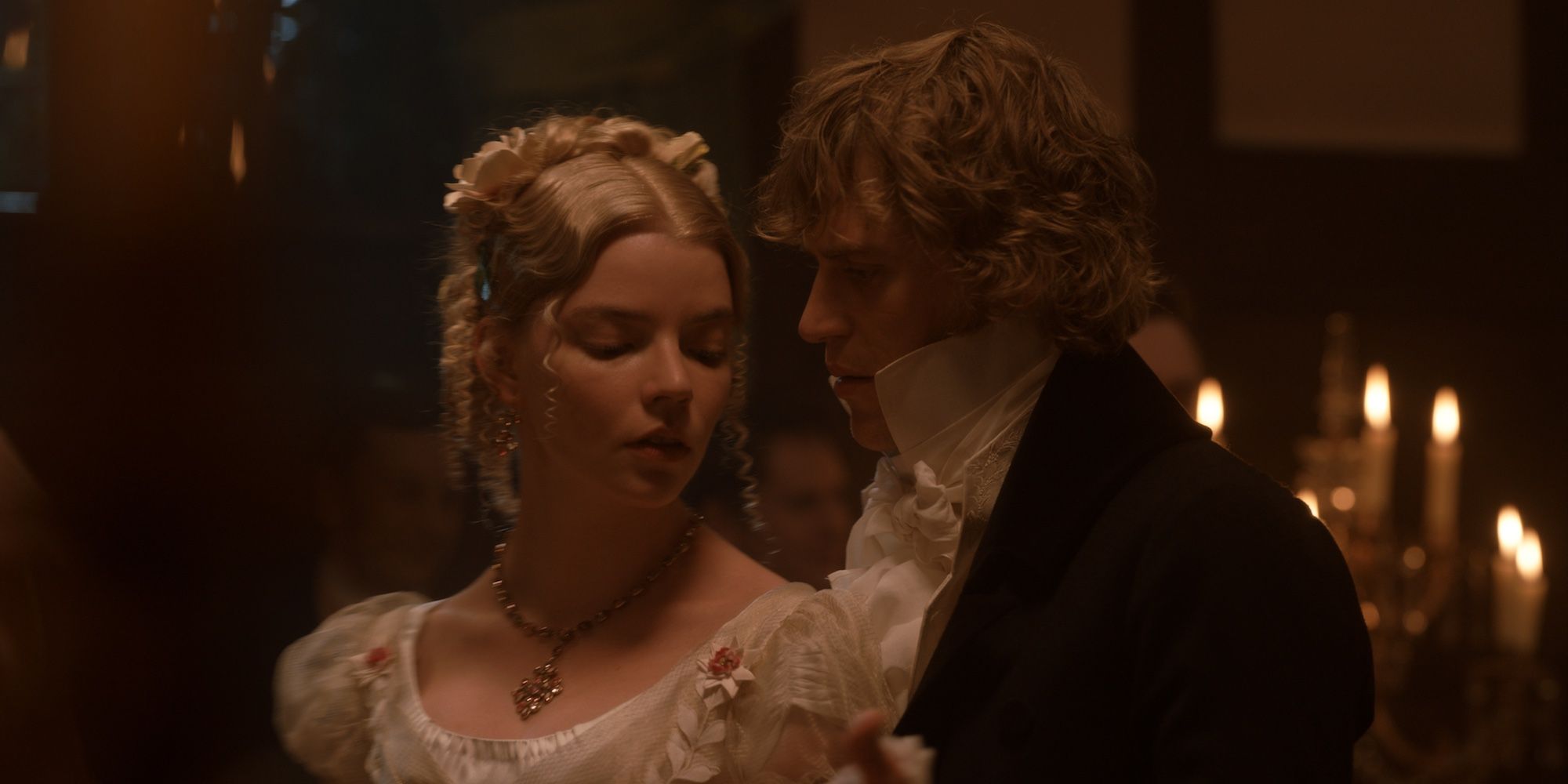 Ultimately, de Wilde puts her own flourish on Emma that elevates the already compelling story to become a refreshingly enchanting and hilarious rom-com. The elaborate set design, verdant landscapes and intricately detailed costumes turn Emma into a visual feast that is nearly as entertaining as the story and characters themselves - but never actually overshadows what's happening on screen. With a cast capable of pulling off everything from the whip smart and fast-paced Austen-esque dialogue to the deeper emotional themes of the film, Emma is a well-rounded, compelling adaptation and an excellent debut for de Wilde.
As such, Emma is sure to please fans of Austen, and it'll entertain moviegoers with more casual interest in the author's work and/or Regency era romances. Because of the beautifully rich visuals of Emma, it's definitely worth catching in theaters, especially for those whose interest was piqued by the trailers. Emma is also fun to watch with a crowd, as everyone can share in laughing at the movie's more comedic moments. Since Emma is less adapted than some of Austen's other books - particularly Pride and Prejudice - there are few other films it can be compared to. Even still, de Wilde's movie stands apart as having its own unique style in adapting the beloved novel, perhaps even becoming the definitive adaptation for many. To be sure, Emma is an all around delight.
Next: Emma (2020) Movie Trailer
Emma. is now playing in a wide U.S. theatrical release. It is 124 minutes long and rated PG for brief partial nudity.
Let us know what you thought of the film in the comments section!
This entry was posted by Screen Rant on February 14, 2020 at 11:02 am, and is filed under TV News. Follow any responses to this post through RSS 2.0. You can skip to the end and leave a response. Pinging is currently not allowed.