Sebastian Stan & Anthony Mackie Give Valentine's Day Tips From MCU Set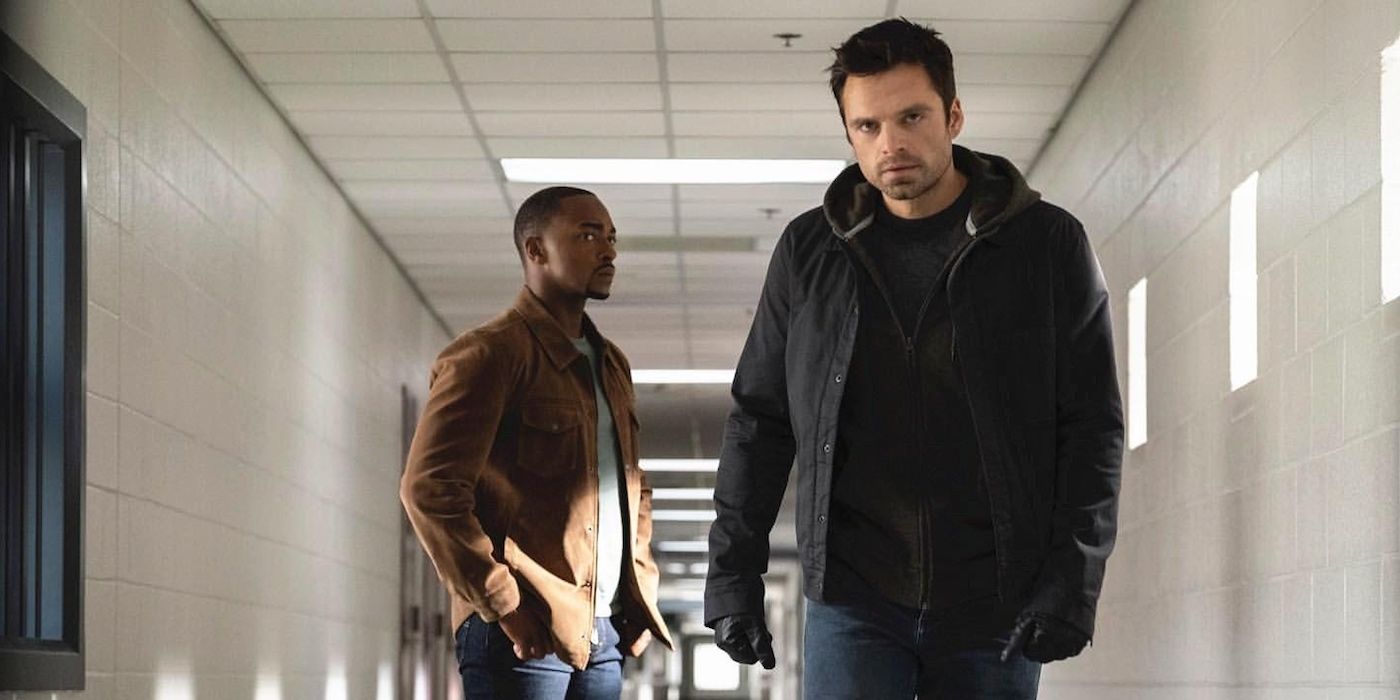 Marvel's The Falcon and the Winter Soldier stars Sebastian Stan and Anthony Mackie offer Valentine's Day tips from the set of the Marvel Cinematic Universe show. The Falcon and the Winter Soldier started filming late last year, with the Disney+ show's production being announced in a video featuring Stan and Mackie bantering. The pair first appeared together in Captain America: The Winter Soldier, and though both Sam Wilson and Bucky Barnes are friends of Steve Rogers (Chris Evans), they didn't get along very well - to hilarious effect.
Now on Valentine's Day, Marvel is further capitalizing on the actors' comedic chemistry as Stan shared a video on Instagram of himself and Mackie from The Falcon and the Winter Soldier set talking about their tips for the holiday. While Mackie advises to "give a gift instead of receive one," Stan encourages viewers to "be yourself always and forever," and eventually the video devolves into them stumbling over each other to get their advice out. Check out the full video below.
Related: Everything We Know About The Falcon & The Winter Soldier TV Series
Fans may be tempted to try to read into Mackie and Stan's advice in regards to what it could mean for The Falcon and the Winter Soldier's storyline. After all, Mackie's Sam Wilson did receive the Captain America shield from Steve Rogers in Avengers: Endgame, essentially becoming Steve's successor. And Stan's character arc in the MCU has seen Bucky Barnes recover from being a brainwashed Hydra soldier to figuring out how to be himself again. Still, it's not clear how exactly that might relate to their show, so it's likely this video is just a chance for Stan and Mackie to goof off. That said, with The Falcon and the Winter Soldier set to premiere this summer, fans will learn more about the series soon enough.
Following the events of Avengers: Endgame, Sam Wilson/Falcon (Anthony Mackie) and Bucky Barnes/Winter Soldier (Sebastian Stan) team up in a global adventure that tests their abilities—and their patience—in Marvel Studios' The Falcon and The Winter Soldier. The all-new series is directed by Kari Skogland; Malcolm Spellman is the head writer. Debuts on Disney+ this fall.
Next: Falcon & Winter Soldier, WandaVision & Loki Trailer Reveals Marvel Disney+ Shows
The Falcon and the Winter Soldier premieres in August on Disney+
Source: Sebastian Stan/Instagram
This entry was posted by Screen Rant on February 14, 2020 at 12:02 pm, and is filed under TV News. Follow any responses to this post through RSS 2.0. You can skip to the end and leave a response. Pinging is currently not allowed.