Why Hemlock Grove Is Netflix's Most Underrated Horror Series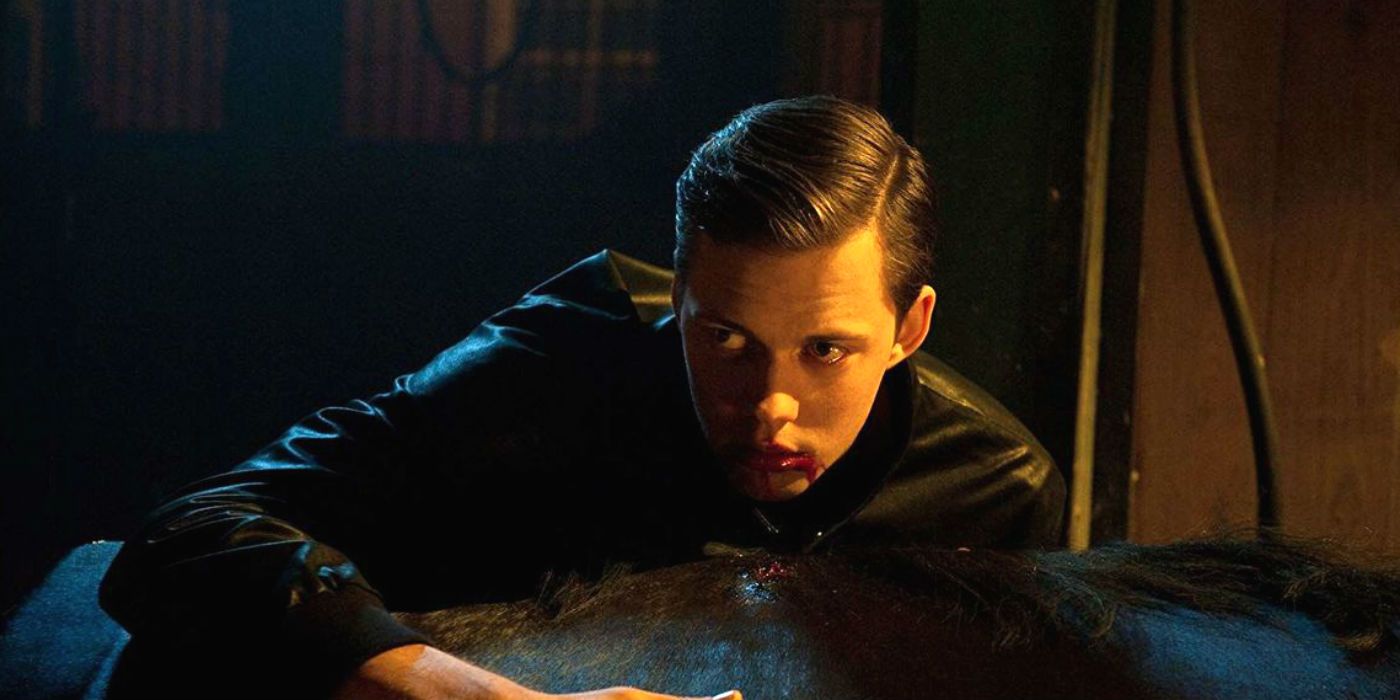 One of Netflix's earliest original series, Hemlock Grove, might not have been the most long-lasting series on the streaming platform, but was an underrated horror series that was ahead of its time.
From executive producer Eli Roth, who became a big name with horror fans early on in his career after making a splash with Hostel and Cabin Fever, Netflix took a chance on Hemlock Grove, which was based on the novel by Brian McGreevy. McGreevy served as the show's creator and co-writer with Lee Shipman. Hemlock Grove was notable for Netflix because it was one of its very first original series alongside Arrested Development and House of Cards. The series starred some major players, such as Famke Janssen and Bill Skarsgard, who went on to make horror history with his portrayal of Pennywise the Dancing Clown in Andy Muschietti's IT and IT Chapter Two. Landon Liboiron, Joel de la Fuente, Dougray Scott, and Lili Taylor also had starring roles on the show, which began in 2013 and ran for three seasons until 2015.
Related: Hemlock Grove: Why Miranda Cates' Death Was An Anticlimax
While horror television has only become more popular since Hemlock Grove's debut, the series remains underrated in a sea of other major properties that have been developed by Netflix. Since its debut, the streaming giant has made a name for itself with original content, churning out hits like Stranger Things, The Haunting of Hill House, and extending to green-light horror movies for debut on their platform, like Sweetheart and Cam.
While the show's plot varied from season to season, Hemlock Grove first revolved around a series of brutal murders that rocked the fictional town of Hemlock Grove, Pennsylvania. From there, the story plays out very similarly to other werewolf tales like Silver Bullet and Ginger Snaps, where the murders - which seem to have been done by some sort of savage beast - sparks rumors in the town. Peter (Liboiron) comes under fire for the crimes; he hails from the "wrong side of the tracks", is part of a poor, Romani family, and is rumored to be a werewolf by some residents of Hemlock Grove. He later develops a friendship with rich kid Roman Godfrey (Skarsgard), whose mysterious family are the leaders of the Godfrey Institute, which studies biomedical science. The two join forces to try to clear Peter's name - even though Peter is, in fact, a werewolf - and he ends up discovering some of the Godfrey family's secrets.
Other creatures come into play, and science and the supernatural combine in unique ways that led for a thrilling story which - though there were certainly plot holes and some rough spots - never failed to entertain. The caliber of acting was present, from the younger cast to more seasoned actors like Janssen, who played the Godfrey family's matriarch. Hemlock Grove takes notes from shows like HBO's popular vampire series, True Blood, adding levels of political intrigue with the Godfrey family's seedy dealings and high society ways, and is fueled by Roth's savvy with the horror genre. While not as impressive in later seasons, the show was regarded for its visual effects and one of the more gruesome instances of werewolf transformations in modern film or television.
While it failed to enjoy some of the longevity as other Netflix series, Hemlock Grove did make an impression in the platform's early days, even managing to snag two Emmy nominations, including one for Outstanding Visual Effects. It may pale in comparison to some of their modern content, but is still worth watching or re-visiting to enjoy the platform's humble beginnings.
This entry was posted by Screen Rant on February 14, 2020 at 12:02 pm, and is filed under TV News. Follow any responses to this post through RSS 2.0. You can skip to the end and leave a response. Pinging is currently not allowed.