Archive for
March 14, 2020
0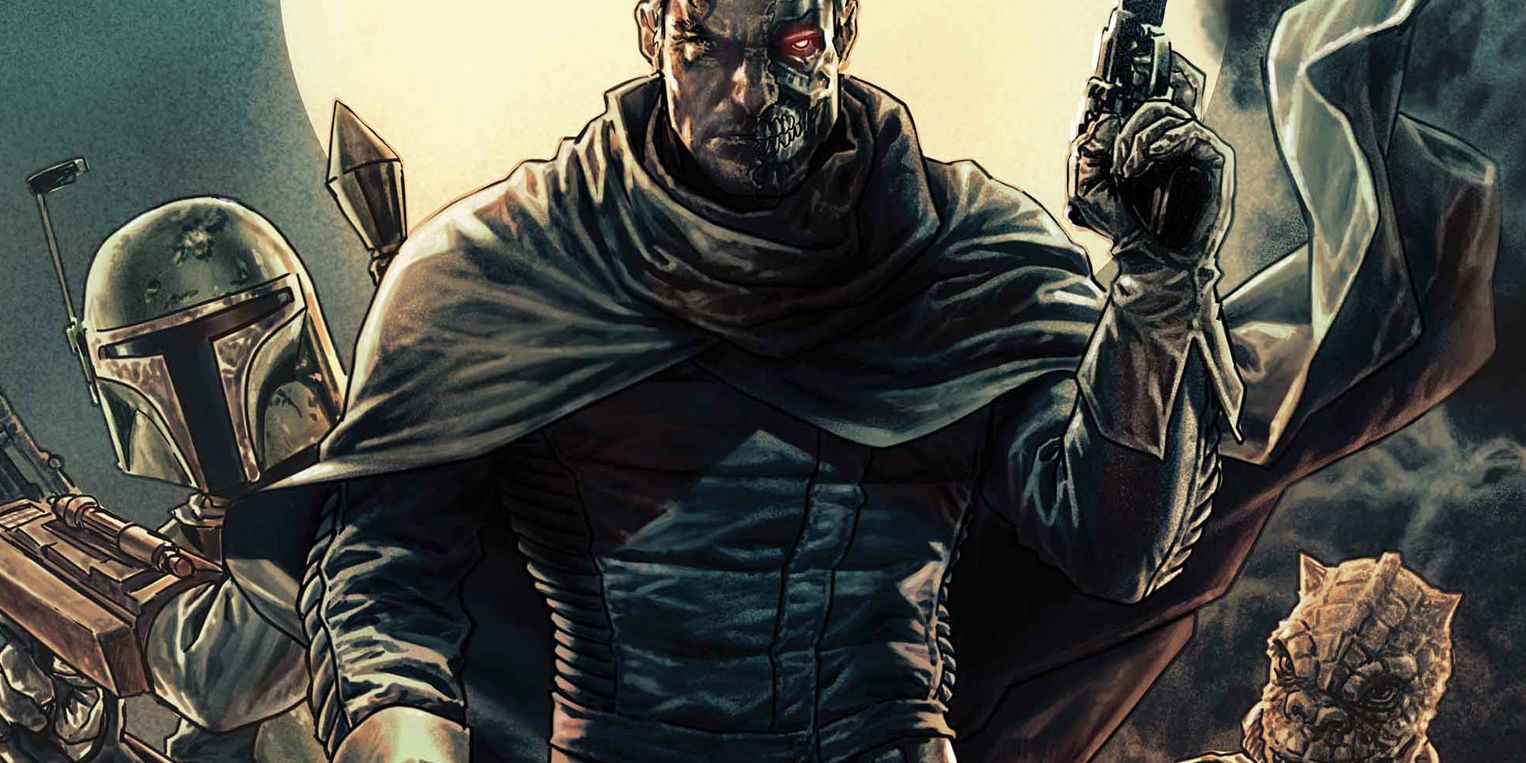 Warning! Spoilers ahead for Star Wars: Bounty Hunters #1
Marvel Comics is releasing a brand new Star Wars comic series for fans to enjoy, and it's all about the deadliest beings in the galaxy. Star Wars: Bounty Hunters will bring the best of the best bounty hunters together in the same series, but not necessarily working together. A very special, rare, and personal bounty has surfaced, making waves all throughout the seedy corners of the galaxy, alerting several of the most notorious bounty hunters to the next big score. Read on for details into the series' first issue.
Bounty Hunters #1 comes from writer Ethan Sacks with artwork from Paolo Villanelli. Taking place after Empire Strikes Back, the galaxy's criminal underworld is taking great advantage of the massive civil war between the Empire and Rebellion. For a bounty hunter, business is booming. However, a bounty gets posted with the recent whereabouts of one Nakano Lash, a former bounty hunter notorious for betraying her crew on failed job on Corellia years ago. The bounty hunters on the crew? Beilert Valance, the cyborg, Bossk the Trandoshan, and the legendary Boba Fett. These are not bounty hunters anyone would want to cross, and they're about to show why.
Related: Star Wars Confirms [SPOILER] is The Deadliest Bounty Hunter
After Bounty Hunters #1 shows the betrayal in the past, it jumps back to the present. When Valance hears the news, he's on Black Spire Outpost looking for his next job. He's in need of more credits anyways, and taking Lash out is certainly icing on the cake. Bossk, currently nursing the failure of not being the one to catch Han Solo and Chewbacca, learns about Lash from none other than Doctor Aphra and the Wookie Black Krrsantan. Boba Fett receives a call from a bounty broker, who informs him of Lash as a courtesty, knowing of its personal and sentimental nature to Fett. Despite still having Han Solo frozen in carbonite en route to deliver to Jabba the Hutt, Fett takes the job, free of charge.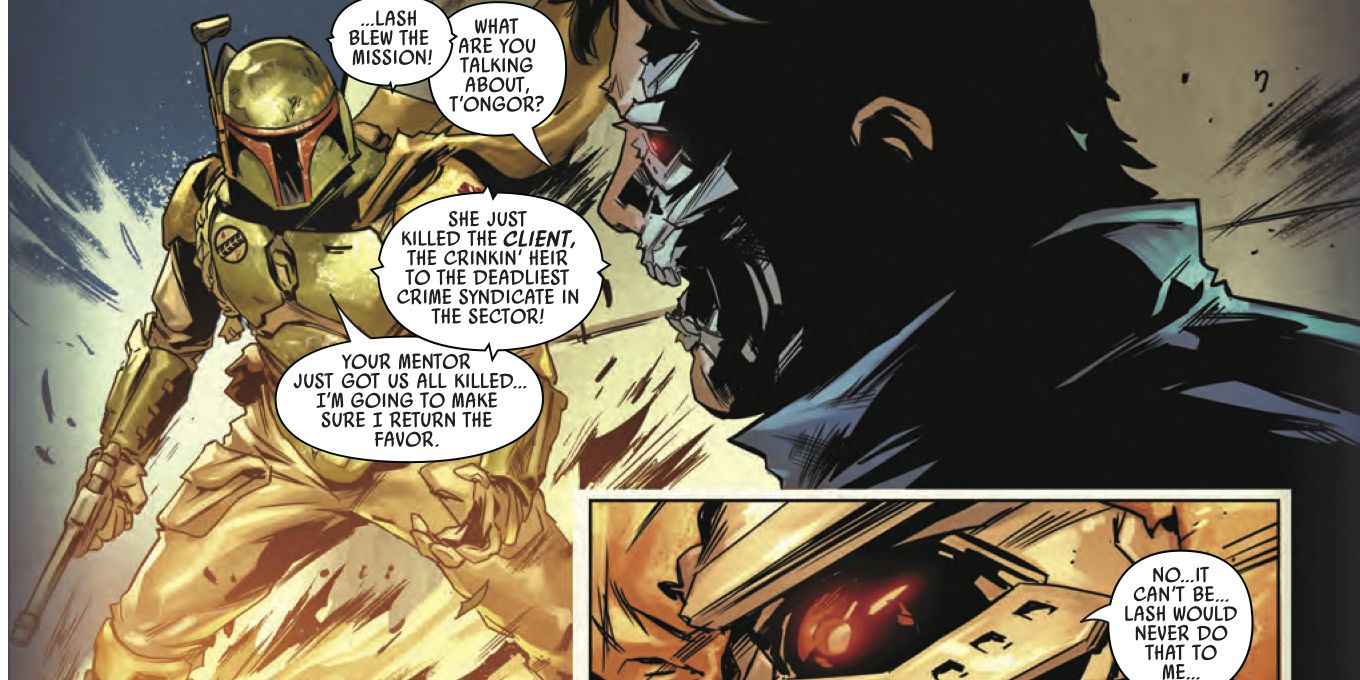 It looks as though Valance, Bossk, and Fett are going to be the main three hunters in this series. However, fans should expect to see other scum and villainy make their way onto the pages as the series goes on. A bounty is still a bounty, and others will be interested, it's just that these three in particular have personal axes to grind. It will be interesting to see who gets to Lash first. The bounty hunters are on a collision course, and at some point will probably cross paths with one another, which won't be pretty. Bounty Hunters #1 is a great start to a series that promises to be high action with plenty of double crosses and deadly gun fights to keep fans guessing as to who will come out on top. The hunt is on!
Years ago, VALANCE and fellow bounty hunters BOSSK and BOBA FETT took on a mission that went sideways in a bad way after Valance's mentor, NAKANO LASH, violently betrayed them. Valance's team barely escaped with their lives. He never thought he'd face his old mentor ever again...until Lash finally resurfaces under mysterious circumstances. Every bounty hunter in the galaxy wants a piece and Valance is hell-bent on getting to the prize first. He has score to settle-but so does Boba Fett! ETHAN SACKS (OLD MAN HAWKEYE and GALAXY'S EDGE) and PAOLO VILLANELLI (VADER: DARK VISIONS and JEDI FALLEN ORDER - DARK TEMPLE) are teaming up to bring you the bounty hunter adventure you've been waiting for this March!
Star Wars: Bounty Hunters #1 is on sale now.
More: The Mandalorian: 5 Bounty Hunters That Could Take Him Out (& 5 That Wouldn't Stand a Chance)