Walking Dead's Andrew Lincoln Plays Rick Again In Danai Gurira Goodbye Video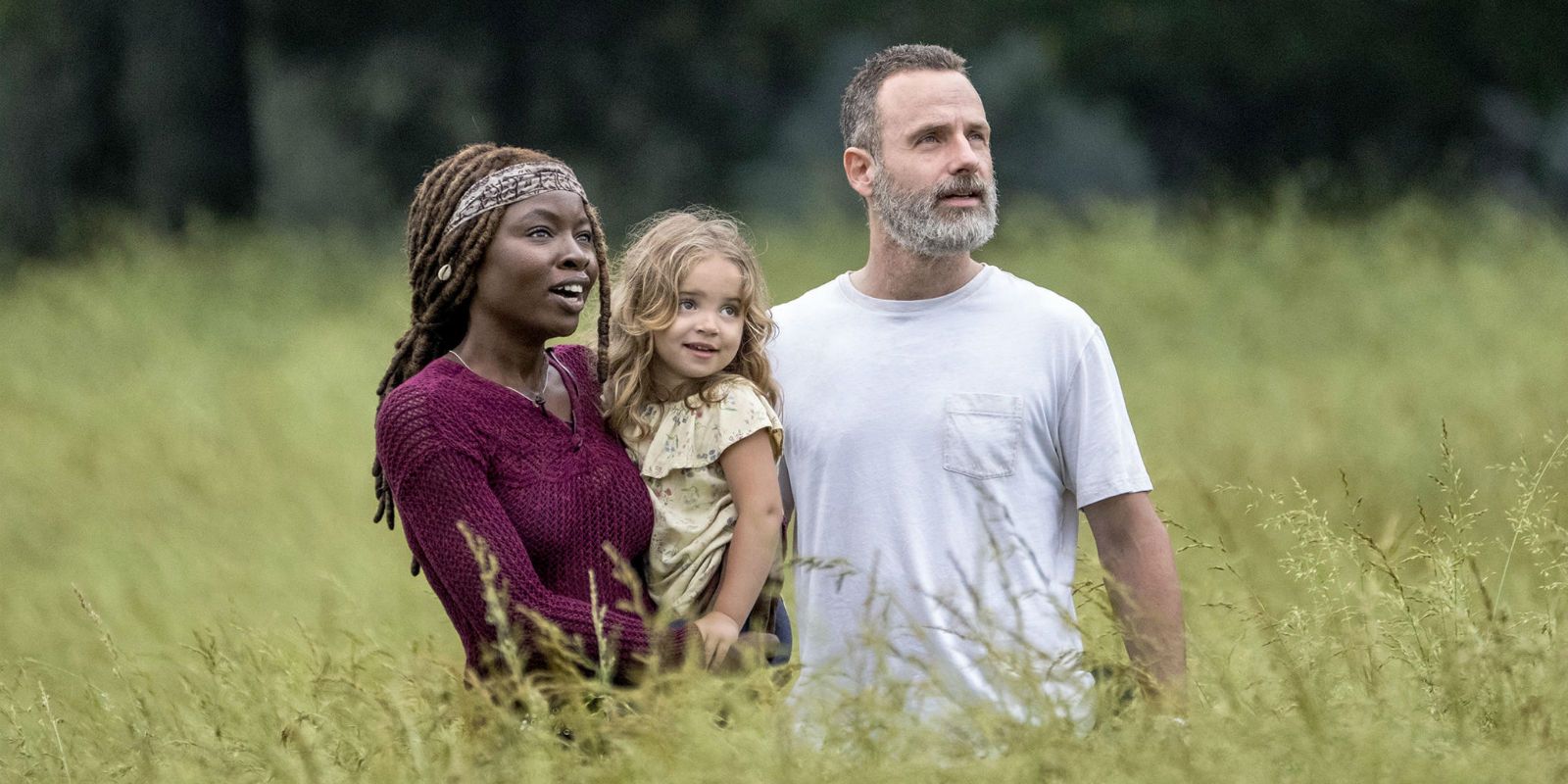 The Walking Dead's Andrew Lincoln congratulates Danai Gurira in a farewell video. The long-running AMC drama is currently in its tenth season. Due to the coronavirus pandemic, season 10 will end early with episode 15. The Walking Dead began with Rick Grimes waking up in a hospital. From there, the character would end up leading a community of people looking to survive in a world ruled by the undead.
Many assumed Rick would be in the story until the show's end, but that changed in season 9. Lincoln left the show after all those years. However, his character's story is continuing in an upcoming film. The latest episode appeared to pave the way for Rick's movie. With Rick gone from the show, Daryl and Michonne became even more primary focuses. Based on a recent interview, Daryl actor Norman Reedus has no plans to exit the show anytime soon. Danai Gurira, on the other hand, announced she was leaving last year. The most recent episode served as Michonne's swan song.
Related: Michonne's Walking Dead Exit Explained: What Happened & What Comes Next
To commemorate the occasion, Lincoln filmed a goodbye video. Gurira then shared the video on her Instagram. In it, Lincoln plays the piano while singing, and then talks about when his character first met hers back in season 3. Check out the video below.
It should come as no surprise Lincoln would share a personal tribute. The two characters worked together for a number of seasons, but their relationship turned romantic in season 6. This development surprised fans, as this was completely different from the comic book. They have one child together, and Michonne became a mother to Judith. It's the end of an era for Michonne. However, it seems possible she will reunite with Rick in his upcoming movie.
Although Rick was a primary driving point, The Walking Dead has managed to go on strongly. Recent episodes have been positively received. Still, for many fans, it's likely hard to picture the show without Rick and Michonne. The katana-wielding character has always been a fan favorite. The show still has Daryl and Negan, however, two characters many fans enjoy seeing. Maggie is also returning for season 11, so fans can look forward to that. The Walking Dead is about to enter one of its most interesting periods as the Whisperer War hits a big point, and the Commonwealth storyline presumably comes into play.
The Walking Dead airs Sundays, on AMC.
Next: Walking Dead Reveals What Happened To Rick After Andrew Lincoln's Exit
Source: Danai Gurira
This entry was posted by Screen Rant on March 26, 2020 at 3:29 am, and is filed under TV News. Follow any responses to this post through RSS 2.0. You can skip to the end and leave a response. Pinging is currently not allowed.