Archive for
April 17, 2020
0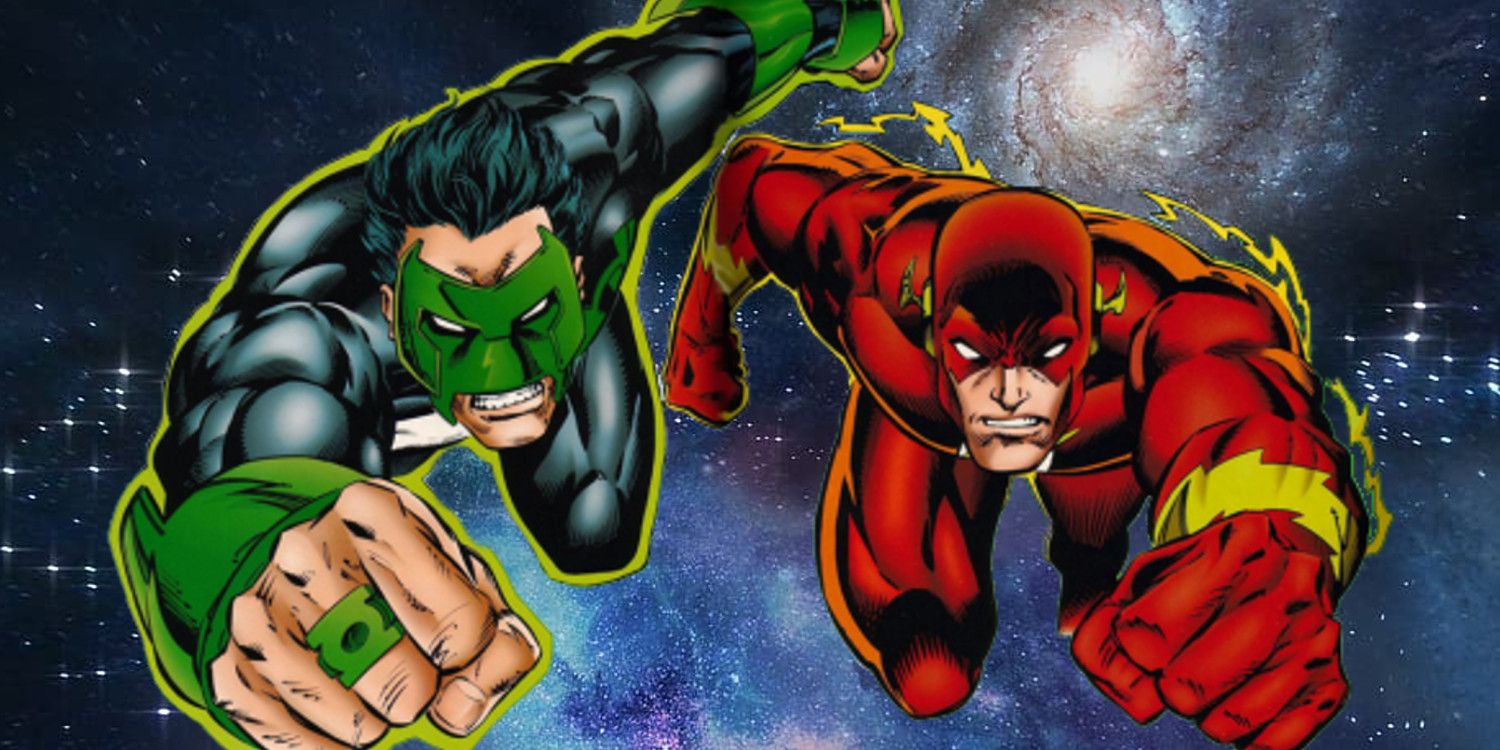 The Flash and Wonder Woman once completely ruined Green Lantern's love life, though it was a tragic side-effect of one of the most convoluted stories in DC Comics history. This did little to improve the relationship between Wally West and Kyle Rayner, who were frequent frenemies during their time together in the JLA.
While most superheroes have a tough time with romantic relationships, Kyle Rayner had luck similar to Peter Parker.  His first girlfriend, Alex DeWitt, was murdered by Major Force in the incident which coined the term"fridging" for whenever a woman in fiction suffers for no reason other than to create drama for a male character. His most recent love interest, fellow Lantern Corp member Soranik Natu, ended their relationship after she discovered that their future son was destined to become one of the Green Lanterns' greatest enemies and that Kyle had learned this first and tried to hide that knowledge from her.
Related: DC's Lost Superhero [SPOILER] Needs To Make a Return
However, Kyle Rayner's most tragic romance was undoubtedly with Donna Troy. The first hero to go by the name Wonder Girl, Donna was a founding member of the Teen Titans and a good friend of Wally West, the first Kid Flash. That friendship would later play a role in ruining Kyle and Donna's relationship, ironically through Wally's efforts to save Donna's life under Wonder Woman's direction.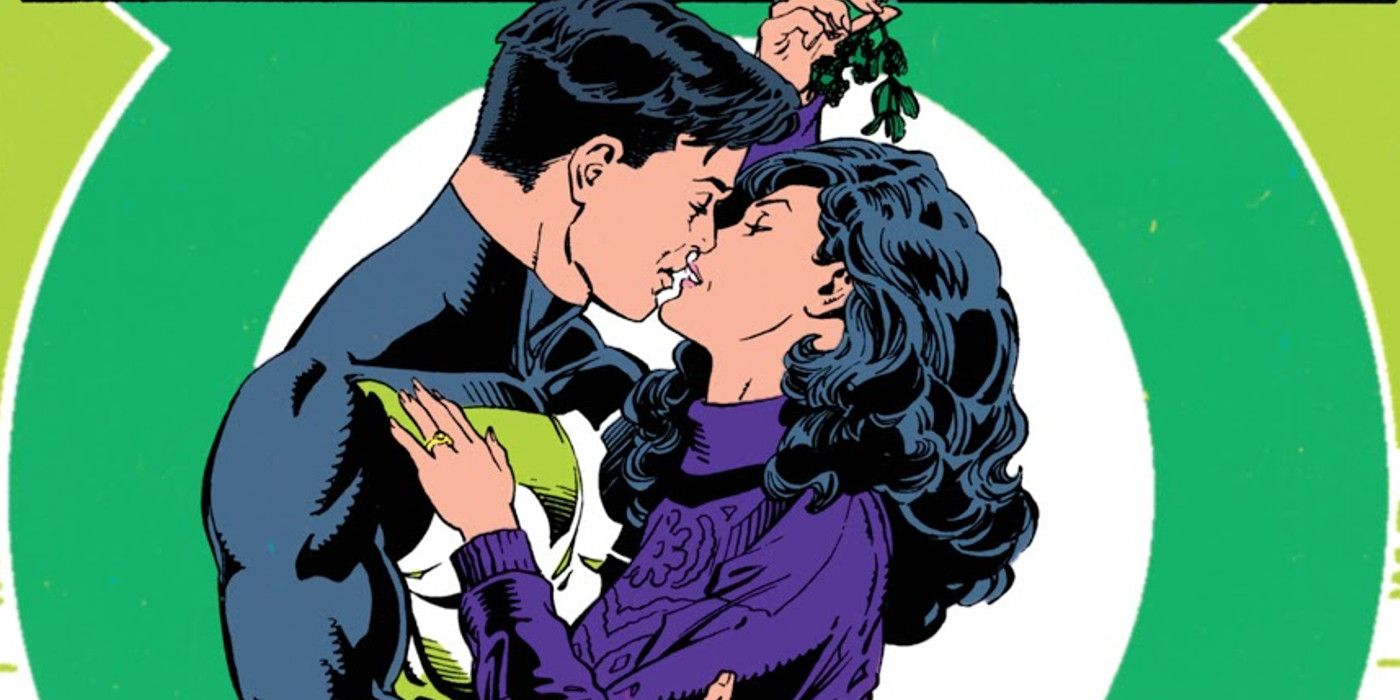 Kyle Rayner decided to move to New York City, needing a fresh start after the death of his girlfriend, Alex. He was aided in this by Donna Troy, whom he had met during the events of the Zero Hour crossover event, before being recruited into the Titans. The two bonded over a love of visual arts (Kyle was a freelance artist, Donna a photographer) and were soon kissing under the mistletoe in Titans Tower in the final pages of Green Lantern #59.
The romance was passionate, but tumultuous. The two heroes argued often, with Donna being frustrated by Kyle's immaturity and Kyle complaining that Donna talked down to him like he was her preschool-aged son, Robert. Still, Donna and Kyle managed to carry one another through the tough times that followed. Donna helped Kyle to make peace with Alex's death and Kyle helped Donna keep it together as she got into a bitter custody dispute with her ex-husband Terry Long, who argued that Robert wasn't safe with his superhero mom.
Sadly, Donna ended things with Kyle in Green Lantern #90, after learning that her son and ex-husband had died in a car accident. Donna felt that she needed some time to get her head together and wasn't in any shape to be with anyone. Kyle understood, but the pain of Donna leaving still remained.
Related: Green Lantern's Greatest Crossover Was With KFC (Yes, Really)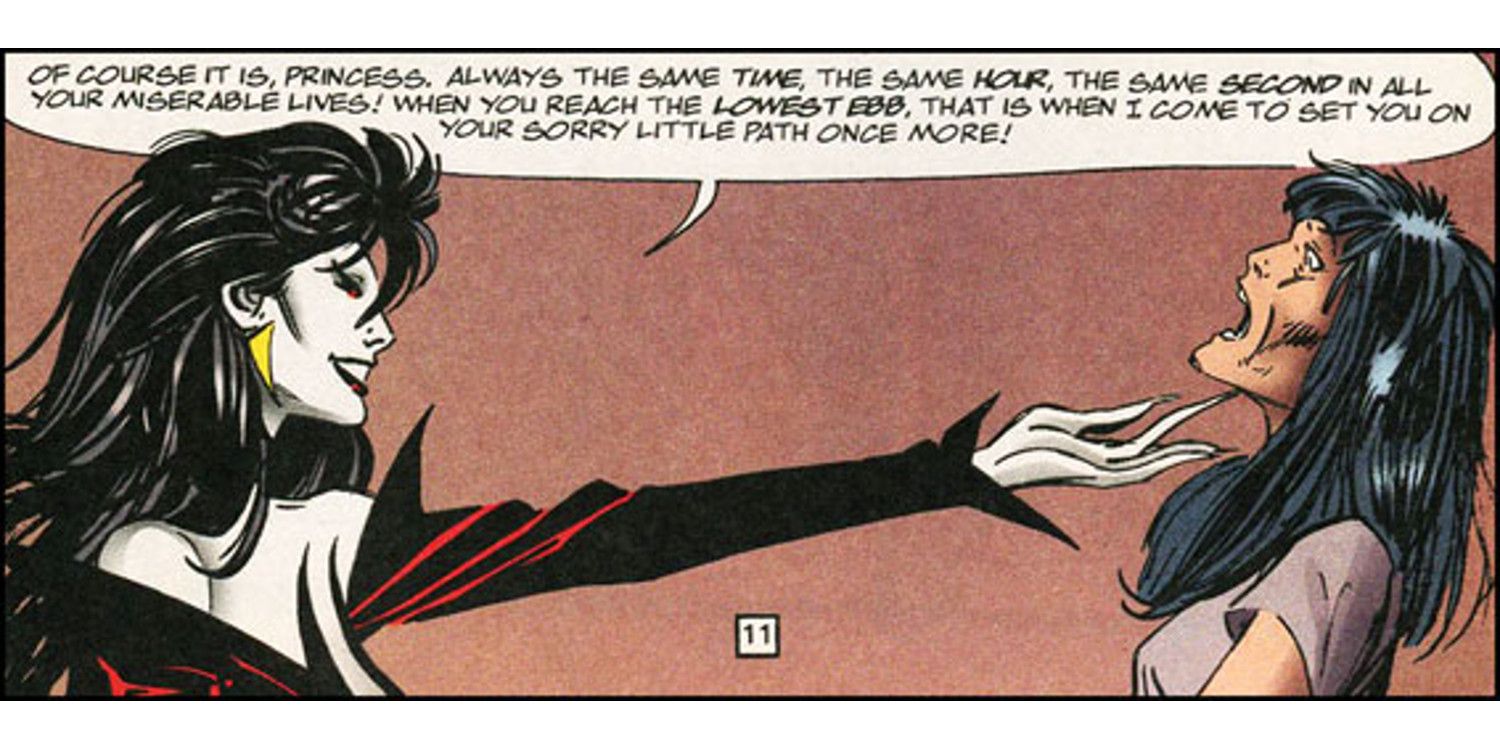 It turned out that the car crash which killed Terry Long and Robert was no accident and was the work of a being known as the Dark Angel. Wonder Woman #131 revealed that Dark Angel had taken a special interest in Donna Troy's life and making her as miserable as possible. The issue ended with Donna disappearing and the friends with whom she'd been visiting having no memory of her ever existing!
The origins of Dark Angel and her interest in Donna Troy were explained in Wonder Woman #132-136, as part of a story which redefined the Wonder Woman mythology and the history of Donna Troy in particular. Donna was revealed to be a magical clone of Princess Diana of Themyscira, fashioned by the priestess Magala from a part of Diana's soul to act as a playmate for the young Amazon so she would not feel so lonely. Magala believed the double would fade away in time, when Diana was old enough to begin the formal training of an Amazon warrior. However, unbeknownst to Diana and Magala, the double was abducted by Dark Angel, who sought to avenge herself upon the daughter of her old enemy, Queen Hippolyta.
The story arc also explained why Dark Angel had a grudge against the Amazon queen. Hippolyta had replaced her daughter, Diana, as Wonder Woman in the modern day after Diana died in the line of duty and ascended to become the Goddess of Truth. It was during this period that Hippolyta traveled back in time and helped the Justice Society of America in fighting the Axis Powers for several years, before returning to her proper place in time.
One of the many enemies Hippolyta made during World War II was Dark Angel, who had been called into the service of the Third Reich by a German sorceress. Once free of her binding to the will of Adolf Hitler, Dark Angel set about destroying the girl she thought was Hippolyta's daughter. She did this by setting up a continual chain of reincarnation, with the soul of the woman who was Donna Troy forced to suffer through an increasingly awful series of lives, only to be reborn into an even worse existence, as all memory of her former self was erased.
Related: Justice Society's Wonder Woman Was Secretly Her [SPOILER]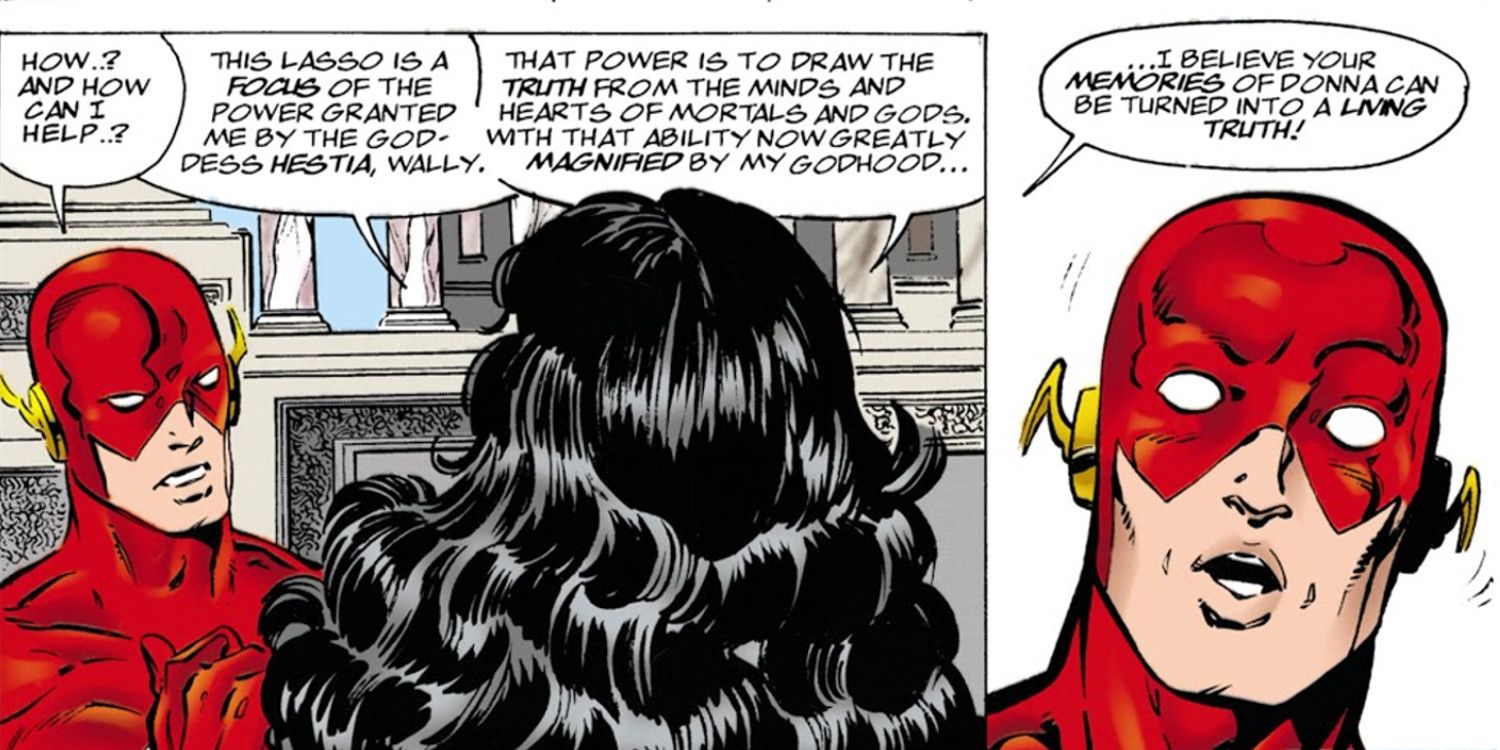 By a happy coincidence, Wally West just happened to be in the Speed Force when Dark Angel removed all memory of Donna Troy from the world. Hippolyta also remembered Donna, thanks to her being outside of the normal flow of time while having her adventures with the JSA. The two journeyed into the underworld to confront Dark Angel, who was in the middle of torturing Donna before sending her on to her next doomed incarnation.
The heroes were able to defeat Dark Angel, but Donna Troy's soul was left as a blank slate. Thankfully, Diana arrived in the nick of time with the knowledge of how to save Donna, having been banished to Earth by Zeus as a punishment for attempting to intervene in the lives of her mortal friends too often. Ironically, this put her in the perfect position to use the Golden Lasso of Truth and her divine powers to bring out Wally West's true impressions of his old friend and imprint them upon Donna's soul and the world. Wally was quick to point out that he didn't know every little detail of Donna's life, but Diana felt that reality would fill in the gaps using what he knew as a starting point in bringing back the old Donna.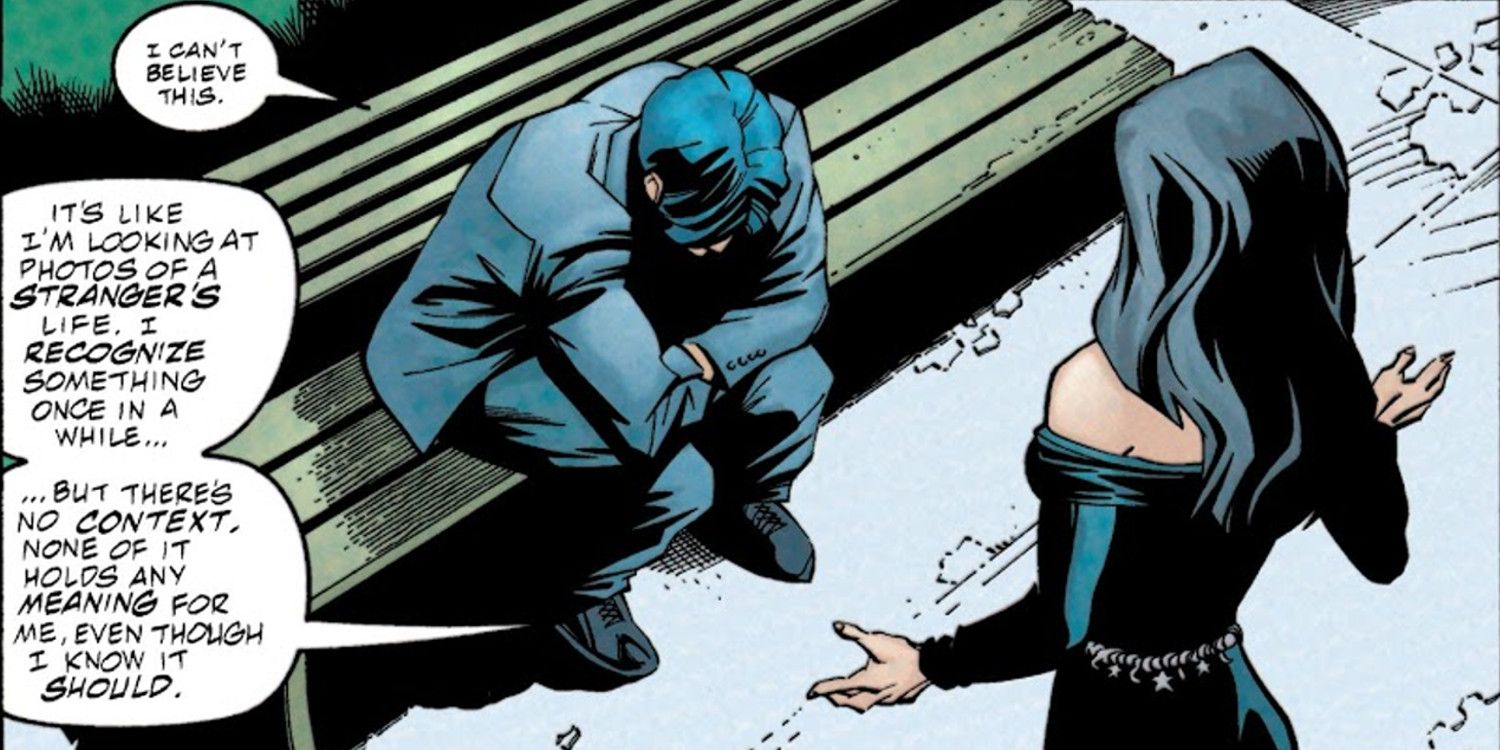 Unfortunately, Diana proved to be quite wrong. While Donna was reborn with full knowledge of her life as a superhero and her time among the Teen Titans, she didn't remember anything beyond the direct knowledge of her life known by The Flash. All the fine details of her personality (like who her favorite photographer was) were lost in the ether and she remembered nothing of her relationship with Kyle Rayner beyond the fact that they had dated and that she loved him. Seeking answers, Donna attended Kyle's first professional gallery opening in Green Lantern #118, hoping they could talk over old times and that she might remember something of who she had been.
Unfortunately, while Donna was gone, Kyle had moved on with his life and begun dating the superheroine Jade, who was less than thrilled about Kyle being so quick to try and help Donna with her amnesia issues out after all she had done to hurt him in the past. Within the span of an issue, Jade had dumped Kyle and he was horrified to learn that Donna was literally not the woman he fell love with anymore. The young Green Lantern's love life was in shambles, and it was all thanks to Wonder Woman and The Flash!