Archive for
May 2, 2020
0
Ever since they leapt onto the big screen in the first X-Men movie, Marvel's mutants have been depicted very differently on film than in the comics. And it seems Wolverine and the rest of the comic book characters have taken note.
While their comic book counterparts continue to wear brightly colored skintight costumes, their movie versions opt for black leather battle suits (although later films saw a move towards more comic book-accurate versions of their outfits). While these changes were made in an attempt to create more "realistic" versions of these fantastic characters, many comic book creators have their own thoughts on how the mutants should dress – and offer them in tongue-in-cheek asides in their comic book storylines.
Related: The X-MEN Kitty Pryde Once Cosplayed As Darth Vader
In Wolverine: First Class #17, for instance, writer Peter David allows the X-Men's intangible mutant Kitty Pryde to voice her thoughts on Wolverine's ideal outfit. The story takes place in the past while Kitty was still a young teenager being mentored by Wolverine. Logan preferred a hands-on approach to teaching, however, and frequently took Kitty on his missions, using her phasing power to sneak into places.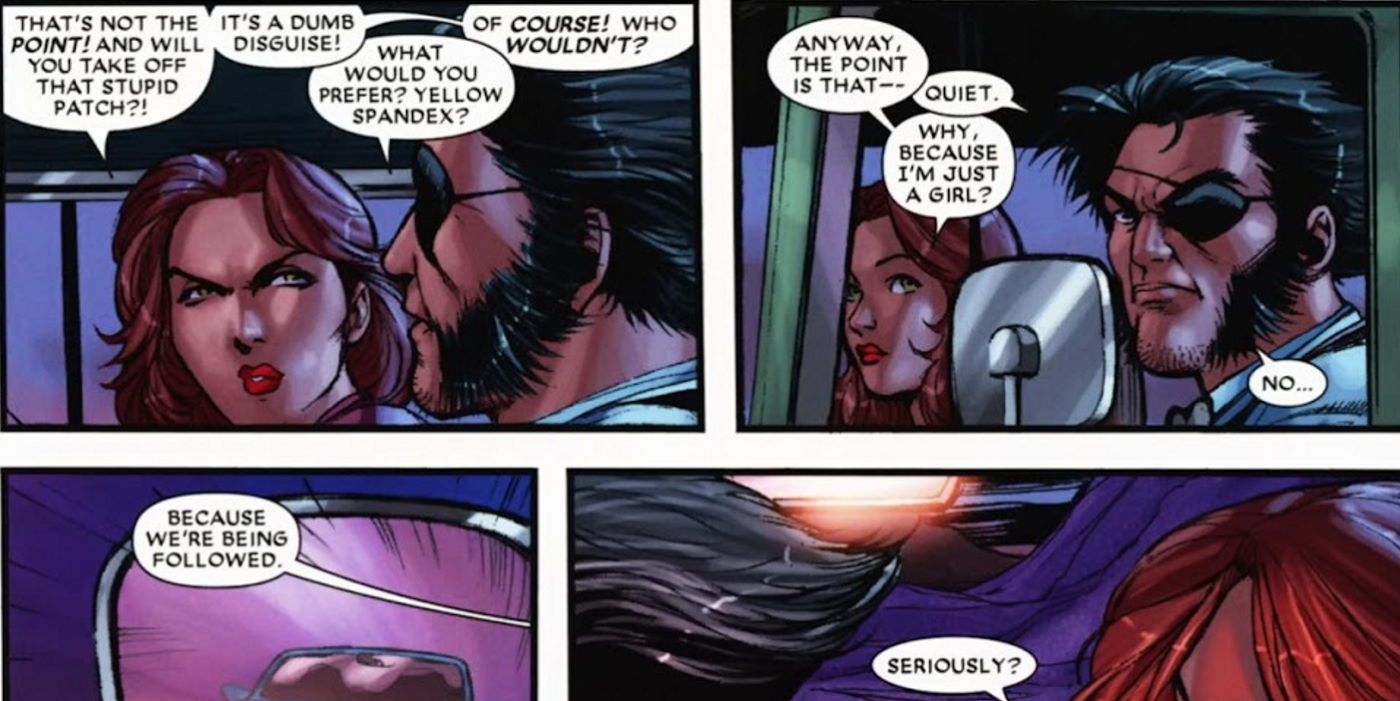 On their current mission, Wolverine again assumed his identity of "Patch," a rough-and-tough gentleman brawler from the corrupt island nation of Madripoor. Insanely, Wolverine's idea of a "disguise" was to simply put an eyepatch over his left eye – not even bothering to hide his distinctive hairstyle or his adamantium claws. Oddly enough, the people of Madripoor had no problem acting as if they didn't know "Patch" was really Wolverine (although many were probably laughing at Logan behind his back). Kitty herself found Logan's disguise ridiculous and at one point she calls it "dumb." In response, Logan sarcastically asks, "What would you prefer? Yellow spandex?" – a funny jab at Cyclops' line from the original X-Men film when the movie's version of Wolverine mocks the X-Men's black leather outfits.
Kitty's response, however, is equally hilarious when she snaps back, "Of course! Who wouldn't?" Her retort mirrors the sentiments of many comic book fans who would have loved to see Hugh Jackman don Wolverine's classic comic book outfit at least once in the films. The rest of Kitty and Wolverine's adventure played out with Peter David's trademark wit – but the writer wasn't done mocking the X-Men film franchise yet…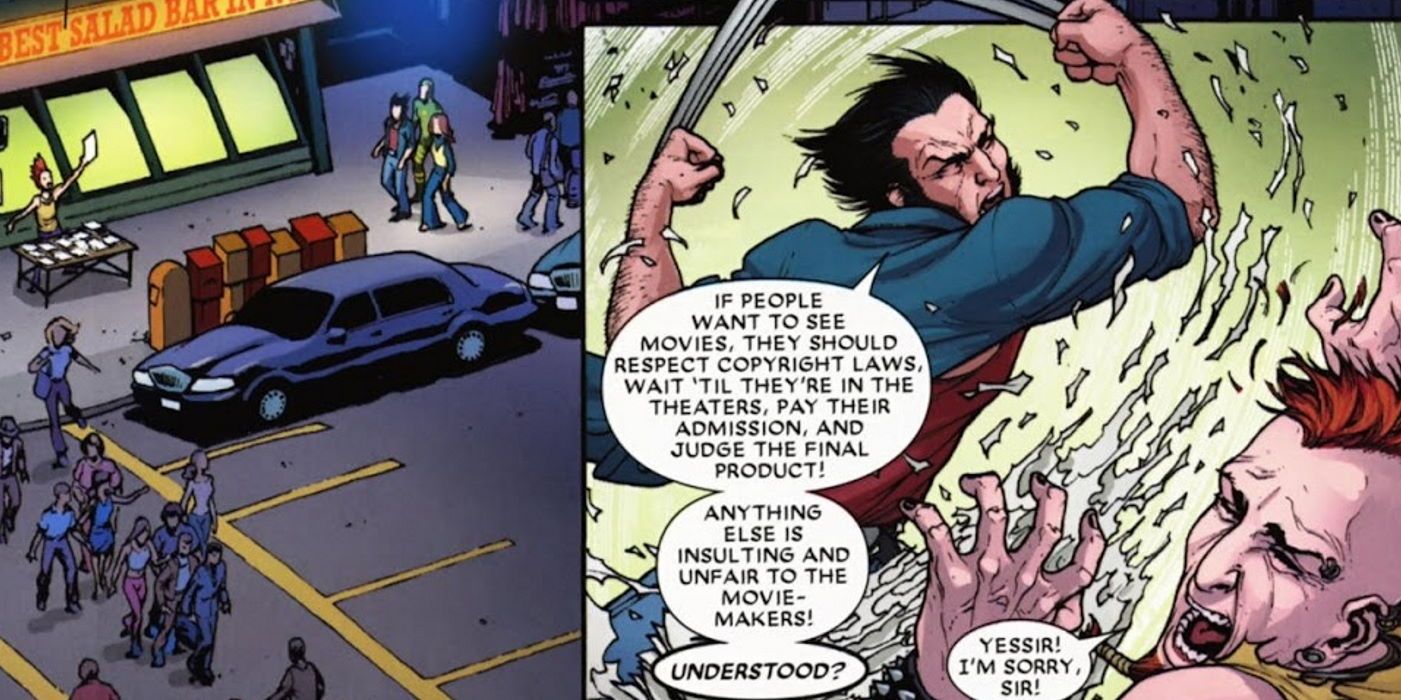 In the very next issue, Wolverine and Kitty find themselves on the streets of New York when Logan comes across a man hawking pirated movie scripts. When the man mentions he also sells rough cuts of films that haven't been shown in theaters yet, Wolverine flies into a rage, hacks off the huckster's mohawk, and shreds all of his scripts, yelling that people should respect copyright laws, pay to see movies, and judge the films based on the final cut. It's a funny moment – especially for people who know that when the comic was originally released, a pirated rough cut of Hugh Jackman's X-Men Origins: Wolverine (2009) had been leaked onto the Internet before its theatrical release. By momentarily breaking the fourth wall and yelling at film pirates (and those who download movies illegally), Logan managed to give a shout out to Hollywood movie makers.
Although comic book movies will continue to make changes from the source material, it's heartening to see that many of them are beginning to realize that a more comic book-accurate look can work on film and please audiences. Fans have noticed films like Deadpool and the MCU Spider-Man films feature costumes closer in design to the characters' comic book counterparts, hopefully indicating the X-Men will start wearing their traditional outfits when they finally make it to the MCU. Kitty Pryde would approve.
Next: Wolverine's Real Name Was Revealed By A Leprechaun (Yes, Really)