Archive for
May 11, 2020
0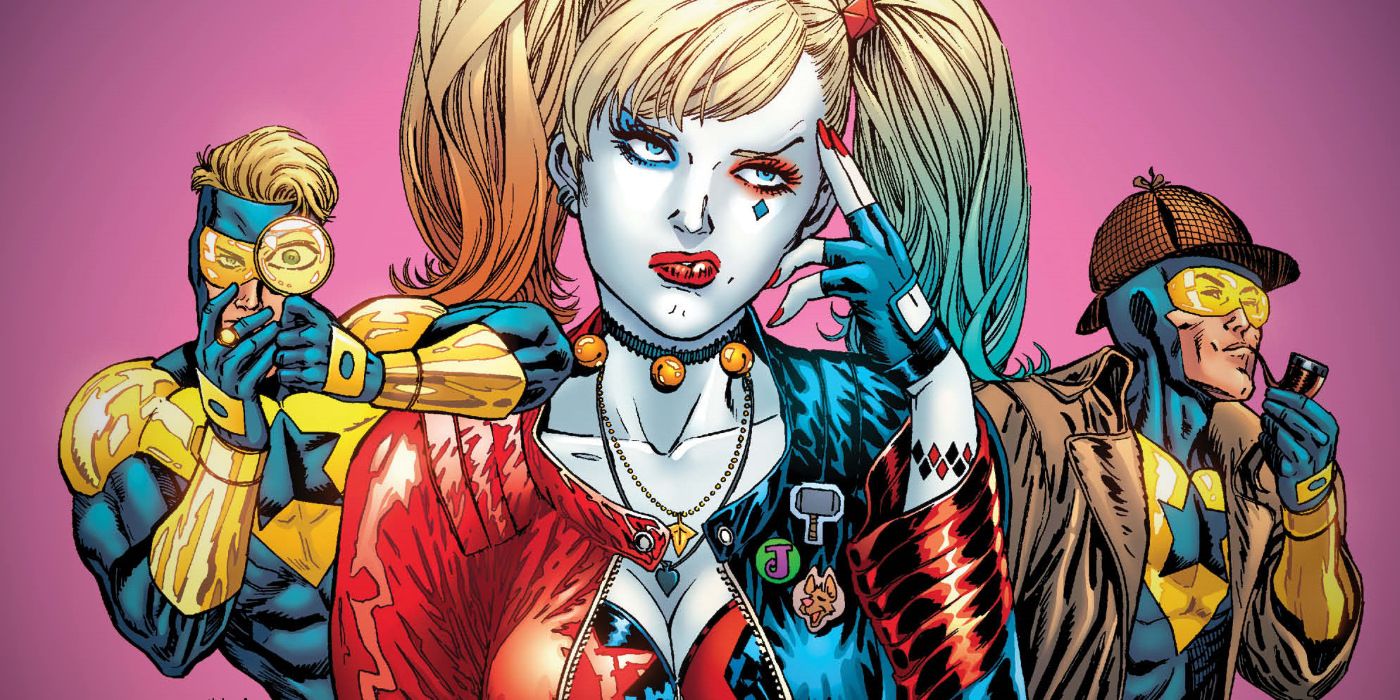 Fans of Harley Quinn didn't know what to expect from her latest trip out to the DC Universe's version of Hollywood. But as her adventure has taken her from professional wrestling to a twsiting and turning neo-noir murder case--and even a team-up with Booster Gold himself--one thing has become clear. Whether or not Harley knew she was running from her mother's death, she has brought her grief along for the ride. And according to writer Sam Humphries, that's entirely by design.
When Humphries took the helm of Harley's comic series, it would have been a leap to expect Joker's ex-girlfriend to graduate to a full-blown New God. But in one of the most unexpected surprises in DC's slate, it was Harley Quinn facing her mother's cancer that left her too winded to keep on fighting. As Harley Quinn #72 finally arrives in operating comic bookstores both physical and digital, Screen Rant got the chance to speak with Humphries about the lingering impact of Sharon Quinzel's losing battle with cancer, and the next twists in Harley's west coast case. If it wasn't clear already, fans of Quinn, Booster Gold, and tales of crushing grief (punctuated by adult-sized babies) shouldn't miss another issue. Readers can find the full interview, as well as an exclusive preview of the new issue, below.
RELATED: Joker's New Punchline To Crash Harley Quinn's Own Comic
SR: I have to start by asking about what might be the most significant "growth" for Harley, which you brought in your run, which was the death of her mother. It was a hard-hitting story, but it's having a more lasting impact than maybe some readers are used to. Can you speak to that decision to not only have Harley face that, but to use that as an ongoing element to her character?
Sam Humphries: From a fundamental level, I believe Harley Quinn is an iconic character. And iconic characters can bear this level of complexity in their story lines. I think there is nothing about Harley where she can't be both wild, and wacky, and crazy, and kicking people in the nuts, while at the same time be dealing with things like a death in the family, and the very real grief that follows afterwards. The other thing that this comes from is... in my family, I've suffered quite a few deaths. I don't know if it's more than anybody else, but they were all tragic to some degree. What shocked me after each one is how unprepared each of us are to deal with death in this society. That mainly comes from the fact that we don't talk about it very much. Death comes for us all, but it comes for our family and friends first, right? Literally everywhere, it happens to almost everybody. But we don't prepare each other for what happens after you lose somebody who is very dear to you.
I don't have any like, crazy life or death wisdom from my experiences, but I did want to take some of the things that I've seen from myself and my own family members and friends, and people I've talked to about this stuff, and kind of put it into a Harley Quinn story that shows death is the climax of a story. Right? Her mom dying is the climax of that story, quite literally. But it's not the end of that story. For everybody left behind there is an entire other process of grief that is very dark and confusing, and painful to go through. Again, we just don't prepare each other enough for this sort of thing. Not as much as we could, or as we should. And I had a lot of smart people saying this book can not bear having a dark story line. But I disagreed! I felt like it was really important to come back to the fact that, baked into Harley's DNA is somebody who can endure really dark turns in their life. This is part of her character, it's part of the emotional core of her character. Just like any other iconic character, if you focus on that emotional core, if you build on that emotional core, and if you honor that emotional core, you can take that character anywhere and they'll still be the character that everybody knows and loves.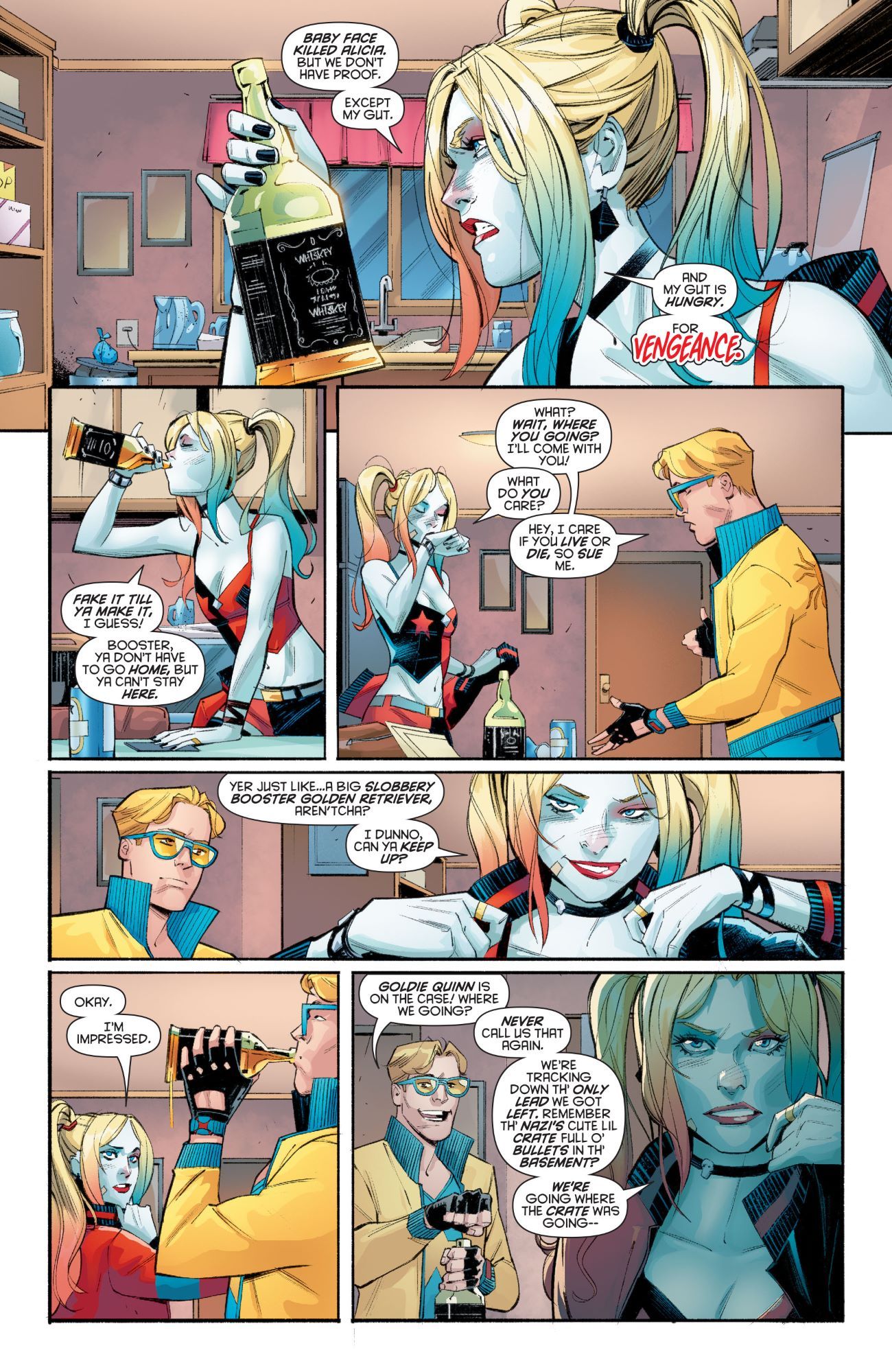 Your run on Harley Quinn has gone to some pretty incredible places, but at what point did you have the idea for her to head to Hollywood, and end up in what feels like the closest a Harley Quinn comic can get to a James Ellroy novel?
[Laughs] I can't claim James Ellroy. I am sure he's a wonderful author, he's just a wonderful author I've never read, so we can relieve James of that burden of influencing this story. But one of my biggest influences on this story--and I wear this on the sleeve, or the page you might say, quite obviously in a couple places--is Inherent Vice. The novel by Thomas Pinchon, but also very much the movie adaptation by Paul Thomas Anderson. That's present in a lot of different ways. One of the things I like about Inherent Vice is it's about a character who is dealing with a very emotional situation in his life, which is a break-up and reemergence of that love interest, but he sort of works out those issues in pursuing the investigation of a crime that blooms into something well beyond the scope of what he thought he was doing. I feel like we all run into those situations in our lives, where we think we're dealing with some sort of emotion within ourselves, but the deeper we dig, the more we realize this is part of something bigger, and deeper, and more complex. That we're harboring all these emotions.
So in some ways, it's almost like 'the criminal conspiracy was inside us all along,' wocka-wocka-wocka [laughs]. But one thing that I've found in my experiences dealing with death in my family is that it does give you an ability that you can't get otherwise. Which is: you can instantly, in a very deep, and sincere, and meaningful way, empathize with other people who have been through the same thing that you have. And I wanted to put Harley into a situation where she could use this "superpower" that she has gained in the face of this tragedy.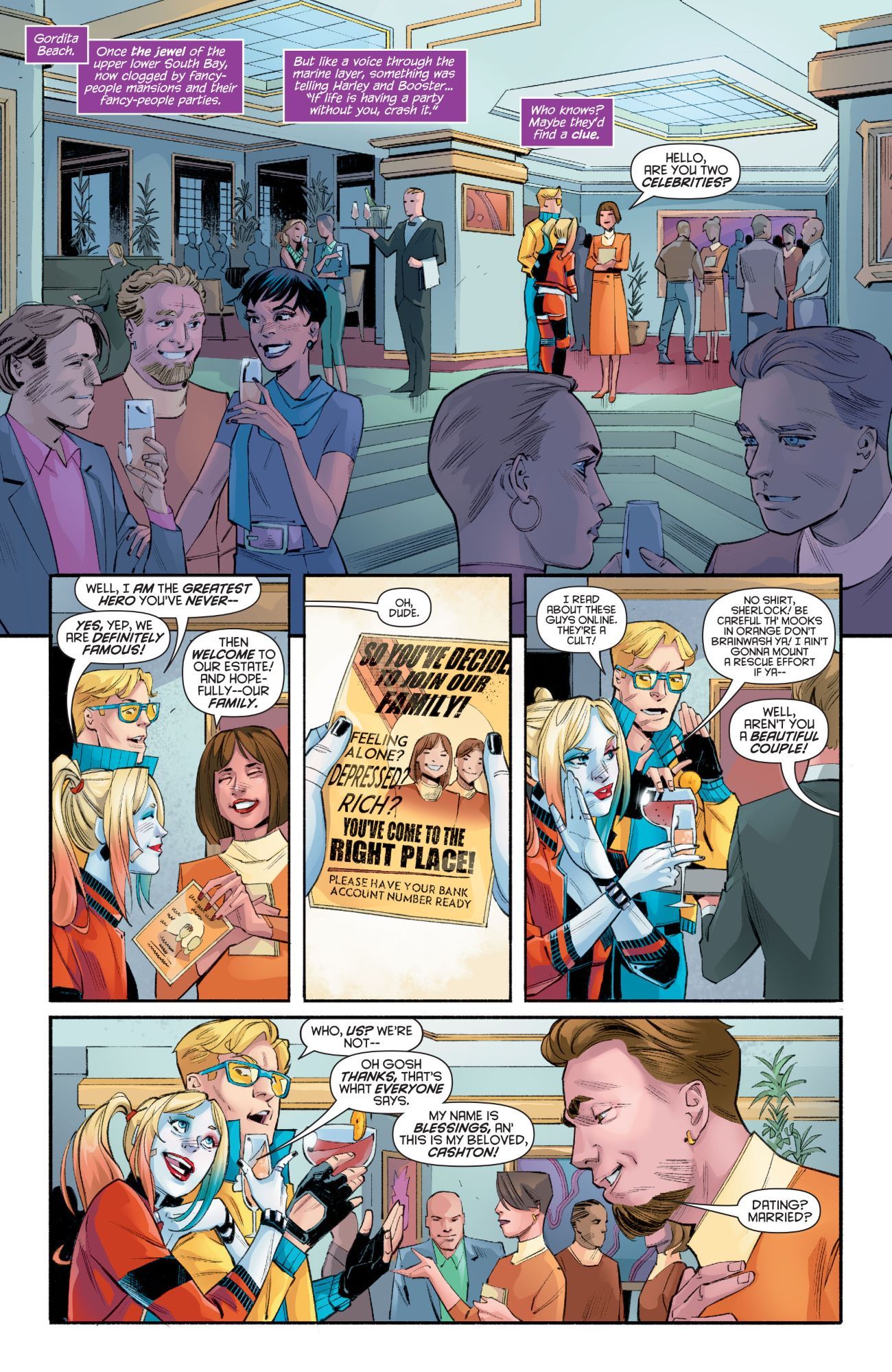 I guess by that same token, at what point did you think that Booster Gold would make for the perfect partner in this detective story? Especially considering the last time they went head-to-head.
On some level I decided in the first five pages of Heroes in Crisis, because Tom did such a great job writing those two together. He did such a great job, I was convinced that he had changed course since the last Time I had heard the story from him, and he was going to end up with the two of them together in a romantic relationship. But he fooled me again. If you really take a close reading of Heroes in Crisis, Booster and Harley are investigative partners in that book. Yes, there is a lot of fighting and a lot of times they are at odds and suspect each other, but these are all hallmarks of crime fiction that Tom expertly played while writing these two characters. And also you got to see Blue and Gold back together again, and Batgirl, and a lot of great stuff along with it. But I talked with Tom about this and told him what I thought. He was like, 'Yeah, that sounds like a good idea.' I've not talked to him since he has read this yet, so I don't know if he is going to want to claim it. But I do think in some ways this is a spiritual successor to Heroes in Crisis. Or at least building on things that Tom established in Heroes in Crisis.
Your description of Harley as a mixture of aloof and compassion, empathy--that rings true in Heroes in Crisis with Booster Gold, and it does almost instantly in this story as well. Was getting that part of his character across a priority for you in the writing?
I'm a massive Booster Gold fan, the Justice League International run of book sis a foundational text for me [laughs]. I know it's the same for Tom as well, so both of us came at these stories as huge, massive fans of Booster Gold. And no knocks on any previous story of Booster Gold, but at least speaking for myself, I saw that there was a lot of potential for Booster that could be explored that had not been explored yet. In some ways, Booster and Harley are an odd couple. They have diametrically opposed vibes, but on a deeper level, I think they have a lot in common. They both have this undercurrent of pathos and tragedy in their lives, and their backstories. They both try to cover it up with different flavors of bravado. And they're both people who have been, at times, ridiculed and written off by tyheir peers as frivo9lous or inconsequential. They both know that stings. They both know that inside everyone you write off that way, they see the potential in themselves that a lot of their peers don't. So I think there is a lot that they bring to the table for each other, and I think there is a lot of deep ways for them to build a connection together. IF that is indeed what happens.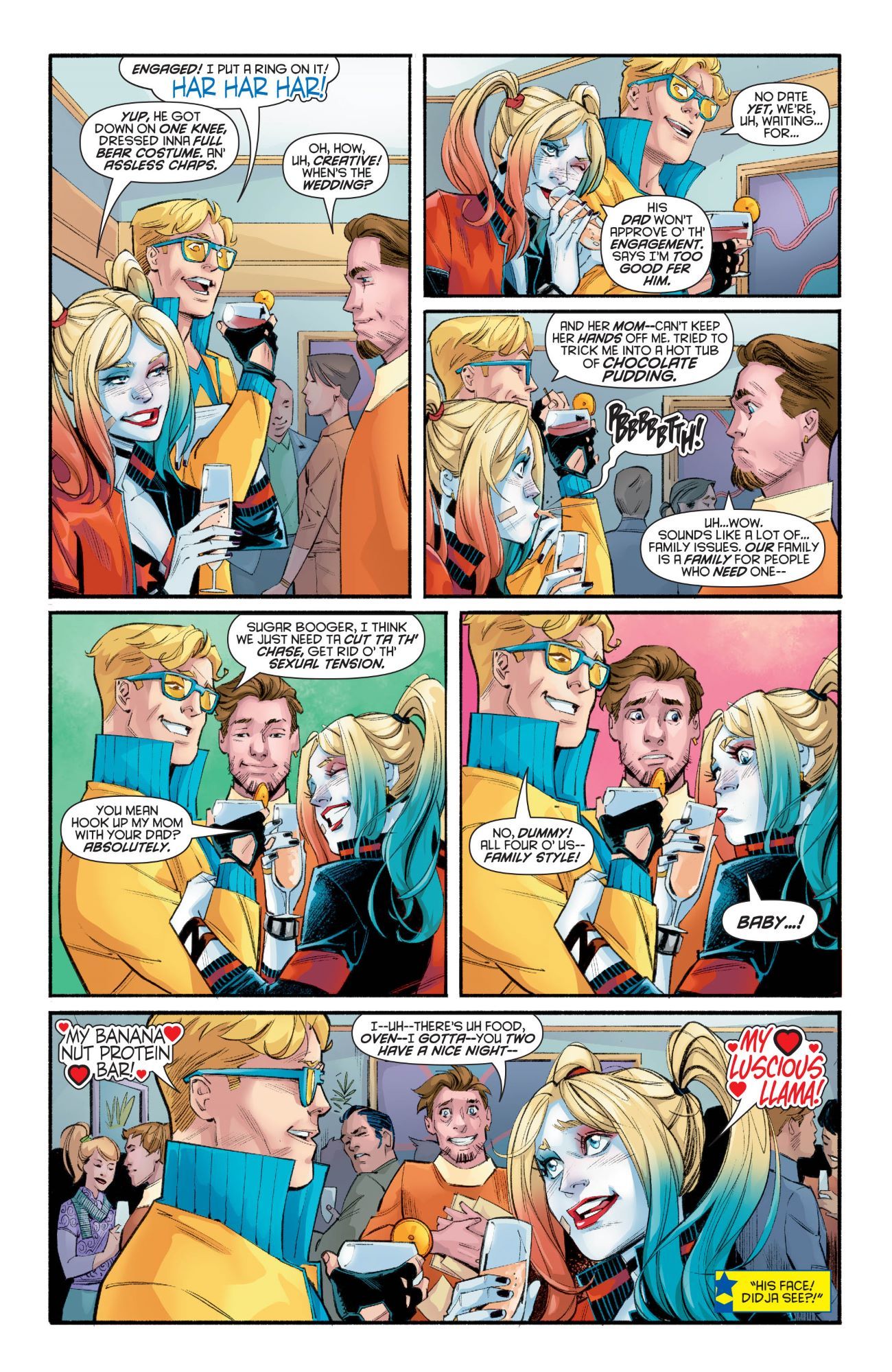 Well in Harley Quinn #72 readers get, while not the level of interaction some fans may hope for, definite hints between the two that confirm opposites attract. Honestly, we could record a separate half-hour interview about this--
[Laughs]
About the steps you go through discussing the possibilities of a romantic connection between two DC characters who are in play elsewhere, at all times. So was that part of your initial pitch, with these small teases of a more substantial, maybe more lasting romantic connection?
I mean, a 'will they, won't they' story is not anything I've invented in these pages. It's a well-worn story format that I fall for every time. As far as like, the pitch, if you're going to bring somebody like Booster Gold into a book like Harley Quinn, you want to make it count, right? You don't want to use them in a disposable way. You don't want to use them in a way that doesn't bring anything to their character, or to the character in whose book they're guest starring. You want to do it in a way that creates a lasting mark on both those characters. You want to make it count. So Heroes in Crisis #1 was a long time ago, probably over a year ago, and I had considered a couple different ways of bringing him in. At one point I was going to do it much sooner, like right on the heels of Heroes in Crisis. But again, out of love and respect for Harley, and love and respect for Booster Gold, and all the creators who have worked on them before, I wanted to do it in way that mattered, and counted. This was a situation where the stars aligned.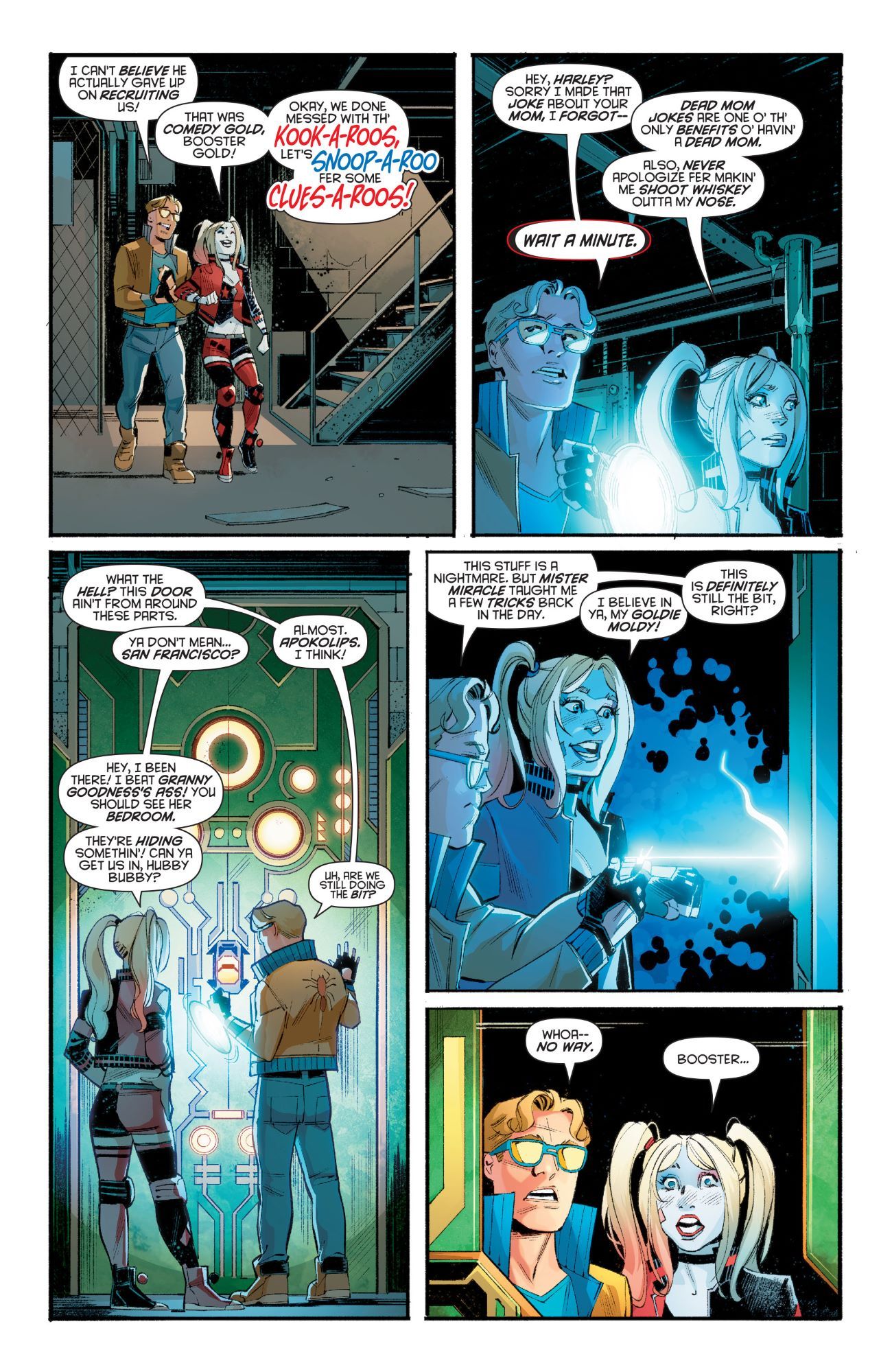 I think my lingering question is that in this long, serialized run with the character, readers are able to see how each new chapter is being built on the ones that came before. And Harley is growing out of those as well. This is Harley Quinn easily at her most reckless, so how would you describe this stage of her story. For both the month-to-month readers, and maybe those who have not followed every single issue?
I would describe it as Harley Quinn--a character who does things we could never get away with in real life--dealing with a universal process of grief. In that process, you find yourself overwhelmed on this rising and falling tide of emotions. Sometimes you find yourself seized by compassion unlike anything you have ever felt or comprehending before, and other times you feel yourself seized by a feeling of 'f*** it' recklessness. Because in the face of death, or the face of the loss of a loved one... what does anything matter anymore? Sometimes you feel these things simultaneously in the same moment.
Harley is the kind of character who is built to explore those kind of emotions. She has been a contradiction since day one. Or, I shouldn't say contradiction. She is a character who can embrace complex contradictions, and synthesize them into one authentic character. That's who she has been since the very beginning, and in some ways she is built to tell this story better than any other character in the DC Universe.
Harley Quinn #72 will be available on Tuesday May 12th, from your local comic book shop or digitally from DC Comics and comiXology.