American Horror Story Season 10 Story Clue Is A Beach (Literally)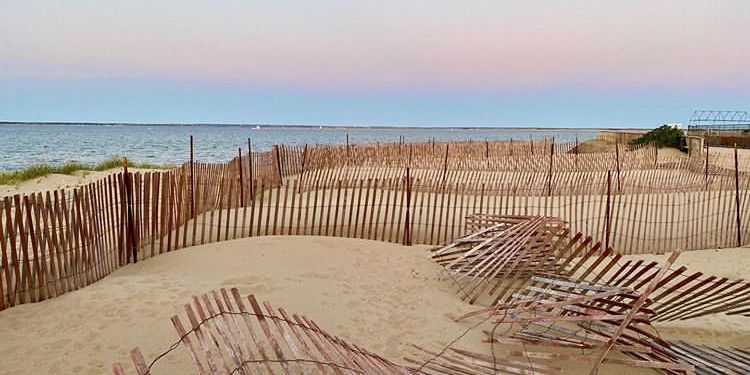 Ryan Murphy, co-creator and writer of the anthology television series American Horror Story, shared a clue about season 10 through a photo of a beach on Instagram. FX's American Horror Story was released in 2011 and has since then become a household name with a large fanbase. AHS is especially known for its award-winning, reoccurring cast such as Jessica Lange, Evan Peters, and Kathy Bates who have taken on varying roles through several seasons with impressive skill. Only 10 seasons were expected to run; however, the network renewed for three more seasons earlier this year. Plus, a spin-off series is currently in the works titled American Horror Stories that will feature many of the cast favorites including fresh faces. Ryan Murphy is a six-time Emmy winner for his work on Glee and The People v. O. J. Simpson: American Crime Story; he has also earned several Emmy nominations for American Horror Story as well.
This is not the first time Ryan Murphy has used Instagram to spill little clues about the future of AHS to his fans. In March, Murphy posted an exciting poster photo for season 10 featuring zombie-looking hands set against an ocean background with a caption that read, "Things are beginning to wash up on shore," leading many fans to theorize the next anthology story would fall under sea folk horror or aquatic horror. Next, Murphy shared a teaser photo of the notoriously iconic Rubber Man on Instagram that led fans wondering if the character would make a cameo return. And, just last week, he shared a post that asked the question: "Does anyone know when we all get our paychecks for being on this season of American Horror Story?" From there, Murphy added a challenge for his fans to guess what his next season is about, adding that he hopes to start production at the end of summer 2020.
Related: American Horror Story Spinoff: Everything We Know About the New Show
Ryan Murphy posted yet another exciting clue today on Instagram of an eerie yet picturesque snap of a beach with a broken, trampled fence. The caption reads, "American Horror Story. Clue." The beach spot seems to be remote and perhaps abandoned, which makes a great setting for American Horror Story's aesthetic.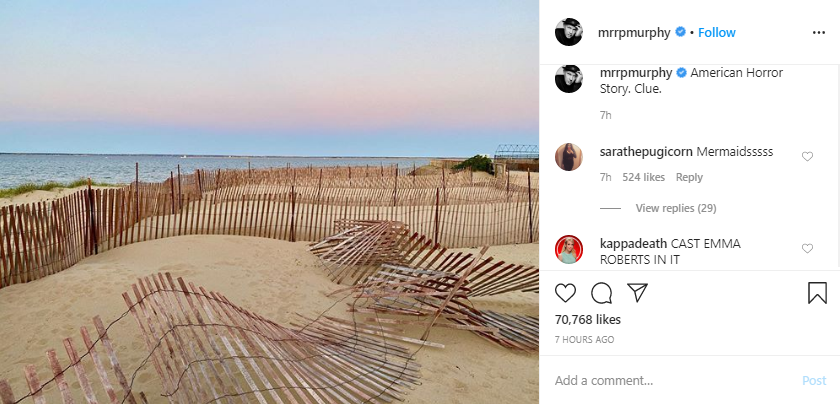 Many fans commented their guesses for the next American Horror Story theme, such as mermaids, the film Jaws, and an array of natural disasters from tsunamis to hurricanes. So far, fans are certain the theme will involve some type of aquatic trope. Murphy has not yet responded to any comments on the Instagram post nor has he added any other updates. As of right now, it looks like the world will have to wait just a little bit longer for what Murphy and the creators have up their sleeves for the next season; FX announced just yesterday that season 10 will not be released until 2021 due to COVID-19 restrictions.
Murphy has been very clever with his method of building anticipation and excitement for the latest season of American Horror Story, thanks to the power of social media. Whether the show will feature Shutter Island (or even The Lighthouse)-like psychological hysteria or terrifying sea creatures from folk lore tales, American Horror Story has demonstrated its strength in executing creative, unique ideas even when dealing with age-old horror tropes. However, it seems AHS actually does best when it takes on more classic tropes, as seen with the success of season one "Murder House" and season two "Asylum." Other seasons that sought to define its own genre, such as season 9 "1984," and season 5 "Hotel," did not quite garner as much praise and following. With the possibility of the next season utilizing the classic aquatic horror trope, AHS just might rise up to its best yet. It's safe to say the world is ready for season 10 of the cult-favorite horror show.
More: American Horror Story: Every Season's Connection Explained
Source: Ryan Murphy/Instagram
This entry was posted by Screen Rant on May 27, 2020 at 10:08 pm, and is filed under TV News. Follow any responses to this post through RSS 2.0. You can skip to the end and leave a response. Pinging is currently not allowed.