Harry Potter: 10 Sirius Black Tattoos Devoted Fans Will Love
Sirius Black is one of the most beloved characters in the entire Harry Potter mythos. His unequivocal love of and support for Harry was one of the most emotionally moving aspects of the novels, and he became one of the few people that the young wizard could trust implicitly.
Related: Harry Potter: 10 Things We Never Understood About Sirius Black
Given how important Sirius was to the novels and the films, it's no surprise that many devoted fans have chosen to memorialize him by getting tattoos of him.
10

Gothic Beauty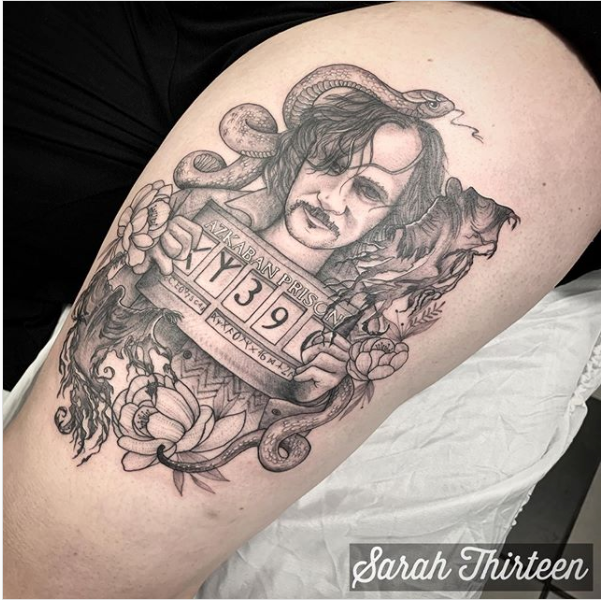 One of the most grievous injustices in the Harry Potter universe is that Sirius spent so much of his life in prison for a crime that he didn't commit, the betrayal of Lily and James Potter, and the "murder" of Peter Pettigrew.
What stands out about this particular sarahthirteentattoo tattoo is that it captures both Sirius' rather gothic hero sort of beauty as well as the tragedy of his imprisonment. Somehow, he manages to bestow his imprisonment with an aura of tragic nobility.
9

Cinema Made Flesh
Sometimes a tattoo artist is so skilled at what they do that it almost seems as if they are able to capture the actual essence of the cinema image on human flesh. Look at the extraordinary level of detail that has been captured here.
It's almost possible to imagine that this tattoo will actually open its mouth and speak in Sirius' voice, no doubt with a reminder that, even in the darkest of times, it is possible to see the light and the good in the world.
8

Unexpectedly Cute
Fans of the books and films will recall that Sirius, like many other wizards, is able to transform into an animal, in this case, a very large, black dog.
Related: Harry Potter: 5 Worst Decisions Sirius Black Made (& The 5 Best)
While one might be forgiven for thinking that a tattoo would emphasize the bristling, rather dangerous aspect of this transformation, this one goes in the exact opposite direction, depicting Sirius as an absolutely adorable little puppy. It's precisely the incongruity of this image that makes it so endearing. 
7

Magic of Flesh
Within the Harry Potter universe, there is a very specific sort of bond between a wand and its user, a fact that is reinforced time and time again. In a similar way, there is a strong bond between various fans of the series and its characters, and Sirius, because of his bad-boy persona and his dedication to Harry, has accrued quite a following.
It's not at all surprising, therefore, that someone would seek to cement that bond by getting a tattoo replicating the runes on Sirius' wand.
6

Devil In the Details
It's impossible not to admire the level of artistry and dedication that goes into a tattoo sleeve. Aside from the pain that must be involved, a well-done sleeve can, in fact, be a work of art in and of itself.
Look at the extraordinary level of detail in the one on display here. While it clearly draws on the iconography of the film, there is just enough different to be original, and the artist deserves extra credit for being able to capture the texture of the newspaper as well.
5

Unknown Provenance
Though it's a little unclear exactly where Sirius procured this tattoo in the film (or why, for that matter) there's no question that it adds to the aura of danger that seems to always hang around him.
Related: Harry Potter: 10 Most Annoying Things Sirius Black Ever Did
The fact that it's visible as soon as he escapes from Azkaban suggests that Sirius, like many a prisoner before him, decided to get one while in prison. The tattoo artist has definitely captured it in exacting detail, and the wearer of this tattoo definitely has some Potter street cred.
4

In Living Color
Despite the fact that the reader first sees Sirius when he's more than a little unkempt and bedraggled after having spent so many horrible years behind bars at Azkaban, as the films go on he manages to attain a rather dapper appearance (even if he does retain some of his wildness).
This tattoo nicely captures the suave and dapper gentleman aspect of Sirius' character, bringing out the softness and gentleness in his eyes. Seeing this image is a reminder of his capacity for compassion and love for Harry.
3

The Beast Within
Though fans primarily love Sirius for the fact that he is, at heart, a kind and generous soul (in noted contrast to many other members of his family), there is also something more than a little sinister in him, as well. The fact that his Patronus is a large, black dog is, arguably, more than a little reflective of his personality.
This artist has cannily chosen to emphasize that, showing the somewhat sinister visage of the dog gazing out at the viewer from the midst of Sirius' otherwise handsome human face. 
2

Friends Forever
Though both the novels and the books understandably focus primarily on Harry and his relationships with his friends, we occasionally get glimpses of the deep and abiding bond between James Potter and Sirius Black.
Theirs was a friendship that lasted beyond the grave, and it is a large part of the reason that Sirius remains so steadfastly loyal to Harry and is willing to do almost anything to ensure that he remains safe. This tattoo, showing their entwined patroni, is a fitting testament to their bond.
1

Unbearably Cute
Things get rather bleak and dark in the final half of the Harry Potter series, so much so that it's sometimes difficult to remember how seemingly light-hearted the earlier volumes were.
However, the one thing that is always a source of warmth and joy is the bond between Harry and Sirius, which survives no matter what happens to both of them. This tattoo nicely translates that intense relationship into something that is both incredibly cute and absolutely endearing. 
Next: Harry Potter: 5 Times Sirius Black Was Inspiring (& 5 Times Fans Felt Sorry For Him)
This entry was posted by Screen Rant on May 23, 2020 at 8:30 pm, and is filed under TV News. Follow any responses to this post through RSS 2.0. You can skip to the end and leave a response. Pinging is currently not allowed.