0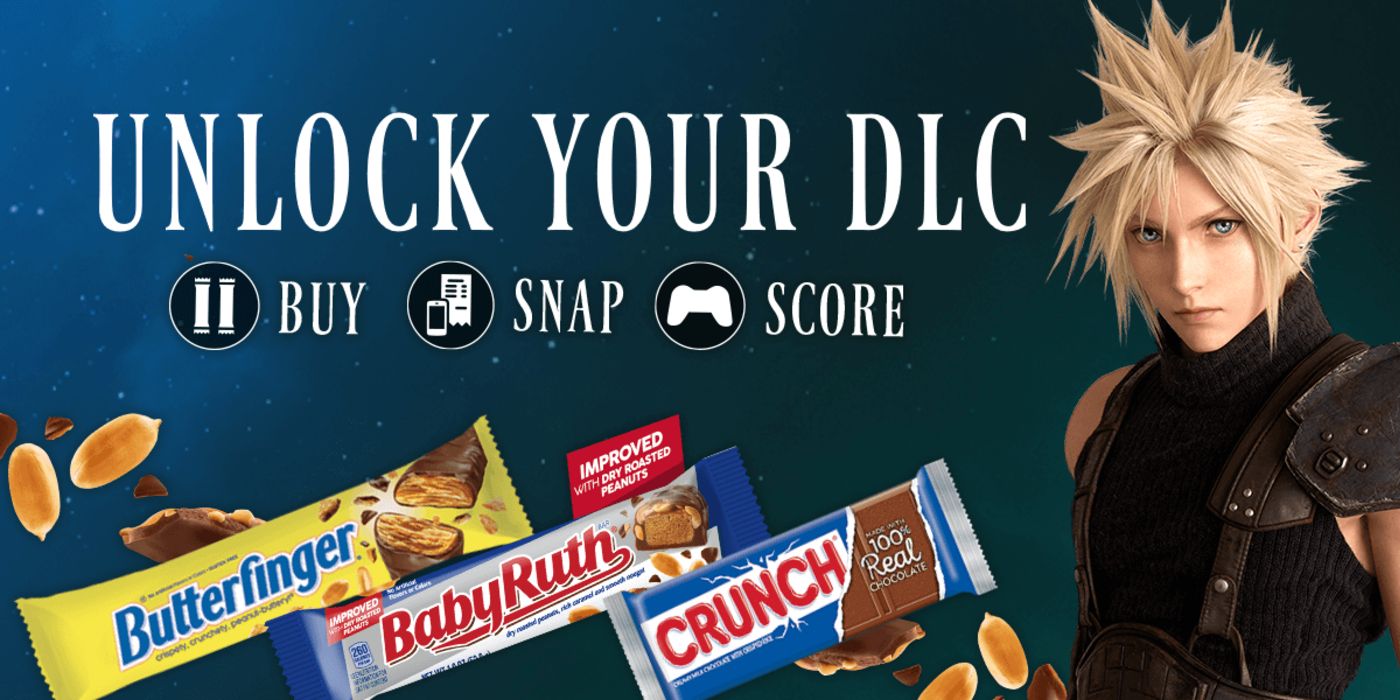 The Final Fantasy 7 Remake DLC plans are coming to light, and one of the planned events will involve the Butterfingers chocolate bar brand. Final Fantasy 7 Remake is one of the most heavily-anticipated releases coming in 2020, a JRPG reimagining of the iconic Square Enix classic that will look to bring Cloud, Tifa, and Aeris to a new generation of fans while simultaneously pleasing old-school players. It's a delicate balance, but one that appears to be working so far.
Crossovers are nothing new to modern video games, and especially not Square Enix ones - the company regularly engages in DLC events that merge games like Final Fantasy XIV with other Square properties like NieR: Automata. Final Fantasy XV, the most recent mainline entry into the franchise, was also no stranger to a bit of real-world marketing: the infamous Cup Noodle hat has gone down in history for better or worse, and appearances and events collaborating with games like Assassin's Creed have proven that Square is willing to branch out beyond its own titles.
Related: Final Fantasy 7 Remake Must Give Zack Fair A Bigger & Better Role
Not much is known about the Final Fantasy 7 Remake DLC plans thus far, but in an announcement made earlier this week, it became clear that Butterfinger, Baby Ruth, and Crunch chocolate bars would be a factor in them. There's an official Butterfinger Final Fantasy 7 Remake website that provides a little bit more context for the promotion, which appears to task fans with purchasing and consuming chocolate bars in order to unlock certain DLC. Butterfinger also released a tweet that indicated the DLC would appear in-game at launch on April 10, 2020.
It will be interesting to see how Square Enix handles the Final Fantasy 7 Remake Butterfinger DLC event. While its other titles are more modern releases and have playerbases more accustomed to these sorts of in-game advertising campaigns, a lot of Final Fantasy 7 Remake's appeal lies within the fact it's resurrecting an all-time classic. With gameplay features and narrative revisions that are already straying pretty far from what the original Final Fantasy 7 looked like, it's possible fans won't be as receptive to in-game advertising as they might be in titles that aren't based on an older idea.
Still, Final Fantasy 7 Remake remains one of 2020's most important releases, and basically everything that Square Enix chooses to do with the game will likely be examined with scrutiny by eager fans. With a release date just over a month away, the advertising campaigns for Final Fantasy 7 Remake are only just beginning to ramp up - which means there could be even more partnerships on the way soon.
Next: Final Fantasy 7 Remake's Talking Dog: Red 13 Explained
Final Fantasy 7 Remake will release on April 10, 2020 for PlayStation 4.
Source: Butterfinger/Twitter, Butterfinger Official Final Fantasy 7 DLC Event Website