Fast & Furious Spinoff Casts Roman Reigns as Hobbs' Brother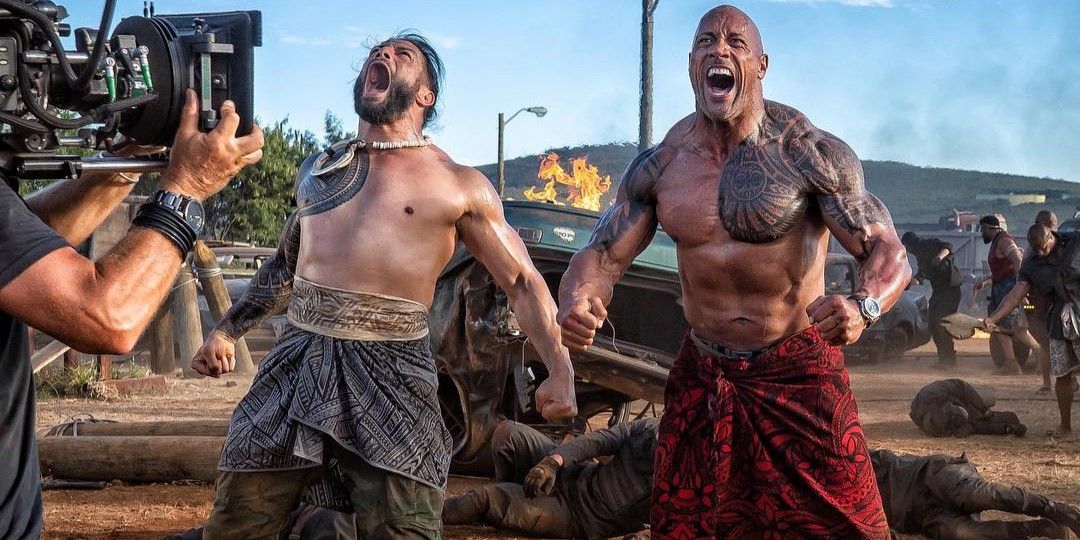 Dwayne Johnson has revealed that Roman Reigns is playing Luke Hobbs' brother in the upcoming spinoff, Fast and Furious Presents: Hobbs & Shaw. Wrestling fans were left shocked when Reigns (whose actual name is Leati Joseph Anoaʻi) announced he was taking a leave of absence from the WWE last October, in order to focus on getting treatment for his leukemia (which had been in remission since 2008). Reigns had gradually evolved into the face of the WWE in the years prior to his departure, all while the company's former top star, John Cena, turned his attention to his movie career with roles in films like Blockers and Bumblebee.
While Reigns has remained largely off the radar in the few months since then, it appears his battle with cancer is going pretty well. In fact, he's doing well enough to make his film debut with a role in Hobbs & Shaw, which is currently filming with Johnson - reprising his role as Luke Hobbs from the previous Fast & Furious movies - and cast members like Jason Statham, who's reprising his Furious Seven and Fate of the Furious role as Deckard Shaw. The Rock has even posted a photo of himself posing on the movie's set alongside Reigns, in turn confirming the latter's role in the spinoff.
Related: Vin Diesel Reveals Female Fast & Furious Spinoff Writers
Johnson has announced that Reigns - his wrestling brother in spirit - is now playing his onscreen counterpart's actual brother in Hobbs & Shaw. He also saluted the wrestler and his ongoing battle with cancer in an Instagram post, which you can check out below.
As this post illustrates, Hobbs & Shaw will provide both Reigns and Johnson with a chance to honor their Samoan heritage on the big screen. The Rock has always been unapologetically proud of his Pacific Islander roots and honored them before in films like Fate of the Furious and Disney's animated musical Moana, but it's nice to see that Reigns will get an opportunity do the same with his first movie appearance. The latter is still in the middle of his battle with leukemia - as The Rock discusses in his Instagram message - but his small role here shouldn't be overly taxing. The scenes where the Hobbs brothers are together will undoubtedly be a treat for the many wrestling fans of the world too, in light of Reigns' saddening announcement last fall.
Interestingly, it's now been revealed that Hobbs & Shaw will introduce new family members for both of its namesakes. Johnson previously confirmed that Vanessa Kirby (Mission: Impossible - Fallout) is playing Shaw's sister and M:I 6 agent Hattie in the film, and it's possible other members of the mercenary's family will briefly pop in too, as Deckard's mom Magdalene (Helen Mirren) and brother Owen (Luke Evans) did in Fate of the Furious. As for the Hobbs clan: it was reported last summer that Hobbs' daughter is being recast for the spinoff, but there hasn't been an update on the subject since then. Perhaps The Rock will clear things up in the near future?
Source: Dwayne Johnson
This entry was posted by Screen Rant on January 25, 2019 at 1:01 am, and is filed under TV News. Follow any responses to this post through RSS 2.0. You can skip to the end and leave a response. Pinging is currently not allowed.